With fantasy cricket's massive popularity, the number of users who play fantasy cricket is only rising as new platforms emerge every other day to cater to this increasing demand. Winning in fantasy cricket isn't as easy as it used to be once. Since the number of fantasy cricket users is increasing, so is the level of competition.
While luck does play a big role, fantasy cricket is more skill-based nowadays. There are several fantasy cricket strategies by applying which one can win contests. In this article, I'll give you some tips and tricks, unique strategies, and means by which you can select the best team and give yourself a chance to win these contests.
So if you are tired of losing in fantasy cricket and want to win finally, you're in the right place.
Ways to Win at Fantasy Cricket
There are a few tips and tricks that can help you set yourself apart from the rest and assist you in winning fantasy cricket leagues.
1. Choosing the right platform
One of the best decisions that you can make even before playing any fantasy cricket is to choose the correct platform for it. One should avoid extremely crowded and saturated platforms like Dream11, MyCircle11, etc, since these platforms carry both high competition and entry fees.
If you can look for some of the lesser-known platforms and invest your money there, chances are your winnings will be more due to lesser competition.
2. Doing your research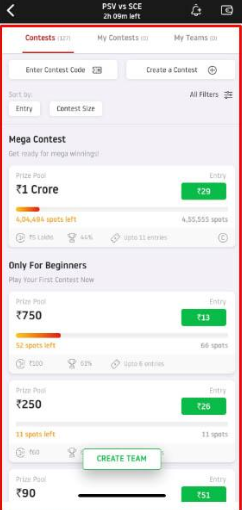 It should go without saying that research in fantasy cricket is one of the most important facets yet underlooked. There are many key indicators or metrics that one can have a look at before setting up their team.
The recent form of the teams
Head-to-Head record
Player form from both sides
Pitch and ground conditions
Match-ups, etc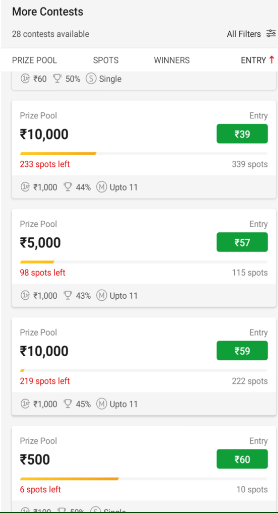 3. Putting out your strongest fantasy XI
Once you've chosen your platform and made all the research work, your next task is to field your strongest fantasy XI. However, a strong XI doesn't mean picking the 11 best players from the two teams.
One needs to consider the most probable scenarios when setting up a team, with the right blend of regular and differential picks giving you the best chance to score the most points.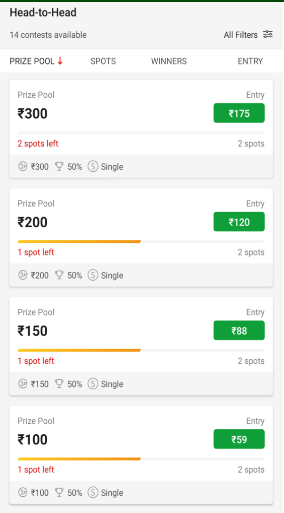 4. Picking more wicket-takers than batsmen
Although the consensus would tell you that cricket is predominantly becoming a batsman's game – especially T20 cricket. But don't let this perception fool you, especially in T20 cricket. Instead of stacking your fantasy XI with batsmen, opt for genuine wicket-taking options. Why? Because a wicket gets you more points.
In T20 fantasy cricket, bowlers are generally awarded 25 points for a wicket, so in order for a batsman to match that, he has to score at least 25 runs since one run equals one point (not considering boundaries hit). Besides, the probability of a frontline bowler taking wickets is always higher than a batsman scoring 25 runs.
5. Choosing the right batsmen
There are many layers to choosing your perfect complement of batsmen. While many sites will refer you to always go for top-order batsmen, there's a caveat to everything.
Yes, the logical mind says backing top-order batsmen is the way to go, as they face the most number of deliveries and thus have a higher chance of scoring more points.
But, as I alluded to earlier, do your research on the ground conditions, player form, and head-to-head records before picking someone.
If it's a batting paradise, back the top-order batsmen; if it's a seamer-friendly wicket, ideally pick 3 or, at best 4 batsmen – especially those known for stabilizing an inning; and if it's a spinning track, keep a balanced mixture of top and middle order batsmen.
Another hack is to pick wicket-keeper batsmen since there's every chance that if they fail with the bat, they can at least pull through with a couple of dismissals per match.
6. Prioritizing all-rounders
All-rounders is one such slot that many casual players overlook but is one of the cornerstones on which experienced fantasy players build their winnings.
An all-arounder gives you valuable contributions from both bat and ball, and more often than not, they deliver with one of the two on any given day.
However, as a fantasy player, your foremost priority should be to pick all-rounders who usually complete their full quota of 4 overs and generally bat higher up the batting order. Making them the best captaincy picks.
7. Choosing the right bowlers
When it comes to bowlers, the priority should always be to go for bowlers bowling in the powerplay and death overs.
In T20 cricket, it is often the start of the innings when the ball is new and swinging, and during the death overs where bowlers usually pick a lot of wickets.
However, just like the batsmen, you should keep in mind to research the venues and pitch conditions before finalizing your bowlers. If the pitch is more favourable to the pacers than the spinners, back the faster bowlers and vice-versa.
Conclusion
There you have it. These are some of the ways by which you can improve your chances of winning in fantasy cricket. See for yourself what suits your style best, and never shy away from backing your gut.
However, with increasing difficulty in winning due to excessive crowdedness in some of the widely known fantasy apps, it is important for you to know which app can give you the best chance to win.
Thus, at the end of the day, it is important to invest your money wisely. Be proactive, do your research, follow your guts, and use some of our advice to beat your peers.
FACs
1. What should I consider before selecting my fantasy cricket team?
One has to consider factors like recent performances, player match-ups and records, venue and pitch analysis, the recent form of the players, etc, before finalizing their team.
2. Which is the best league in fantasy cricket?
There are two leagues in most fantasy cricket apps: Small Leagues and Grand Leagues. A small league ranges from 3-100, whereas a grand league can range from 10000-10000000 users per contest.
3. What is a head-to-head contest?
A Head-to-head contest is a two-player contest where the two players compete directly against each other in a 1v1 match.
4. Which is the best league for me to win in fantasy cricket?
With leagues, it is generally the smaller leagues having 3-10 members where fantasy cricket users find the most success. These leagues have a low-risk factor but high reward and minimal competition.