When we talk about the IPL career of Virat Kohli, the 2016 season is what comes to mind at once. The RCB Skipper was in the form of his life in 2016, and he thrived in both International cricket and the Indian Premier League. He has been a part of the Bangalore side since the beginning of IPL and has played all 15 seasons for them. He took over as the captain of the franchise in 2011 and stayed in this role till 2021. RCB played a couple of finals under his leadership, but the year 2016 was when they got closest to the trophy. They dominated the 2016 edition of the Indian Premier League, and the reason was the batting form of their skipper, Virat Kohli.
Let's rewind Kohli's extraordinary IPL season in 2016.
Started On A High
Virat started his IPL 2016 with a fine half-century against the Sunrisers Hyderabad. He faced 51 deliveries to score 75 runs with the help of 7 fours and 3 sixes. He and AB de Villiers were involved in a 157-run partnership, and RCB posted 227 runs on the board. They made a winning start to the tournament as they secured an easy 45-run win. Kohli got even better in the second game and scored 79 runs on 48 deliveries. Like the first innings, the second one also had 7 fours and 3 sixes in it. This time around, he stitched a partnership of 107 runs with AB de Villiers and 63 runs with Shane Watson. Unfortunately, Bangalore lost this match despite scoring 191 runs in the first innings.
A Rare Struggling Knock
After a couple of solid contributions with the bat, VK had an ordinary outing against the Mumbai Indians. He faced 30 balls in his innings but could only get 33 runs, along with 3 fours. His struggle with the bat resulted in RCB's second defeat of the season in successive matches.
A Strong Comeback
After just one failure, Virat was back to his best against the Rising Pune Supergiants. His 80-run knock helped RCB to post a challenging total of 185. Once again, there was a massive 155 Run partnership between Virat Kohli and AB de Villiers. Bangalore emerged victorious by 13 runs in a tight contest.
First Ton of the Season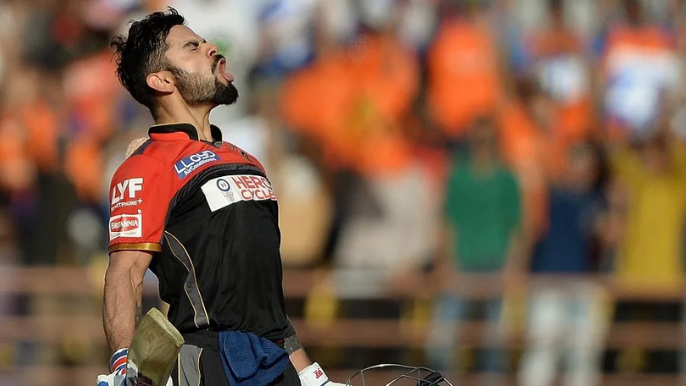 VK scored his first century of IPL 2016 in his 5th outing. Against Gujarat Lions, he smashed a 63-ball 100. The innings was laced with 11 boundaries and a solitary maximum. Gujarat Lions were asked to chase down a target of 181 runs which they successfully did.
More Struggle
The next game witnessed more struggle for Virat and RCB. While chasing a target of 195 runs against the Sunrisers Hyderabad, he got out for a 17-ball 14. His team lost yet Again by a margin of 15 runs. For the first time in the 2016 edition, Virat Kohli decided to come at the #3 position for his team. The move didn't help as he played a slow innings of 52 runs in 44 deliveries. The Royal Challengers lost yet again as they were unable to defend a target of 186 runs against the Kolkata Knight Riders.
Another Strong Comeback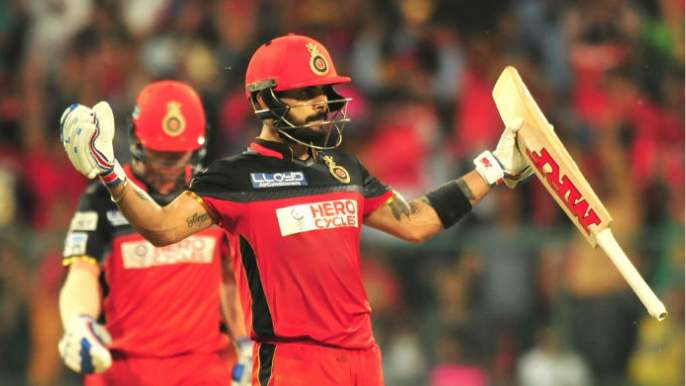 It's hard to keep the class players silent for too long. RCB were in a spot of bother after losing 5 out of their first 7 games, and they needed their Skipper to stand up. He certainly did by scoring a 58-ball 108 against the Rising Pune Supergiants. His innings had 7 fours and 6 maximums in it. He guided his team to a 7-wicket win while chasing 192.
A Couple of Low Scores to Follow
After a match-winning hundred against the Rising Pune Supergiants, Virat had another failure against the Kings XI Punjab. Thanks to fine contributions from KL Rahul and Shane Watson with the bat, RCB were able to set a target of 176 runs, and they sneaked a 1-run victory. In the next game, Kohli was dismissed for a run-a-ball 7. Consequently, his team suffered another loss to Mumbai Indians by 6 wickets.
Start of Something Special in Kohli's Extraordinary IPL Season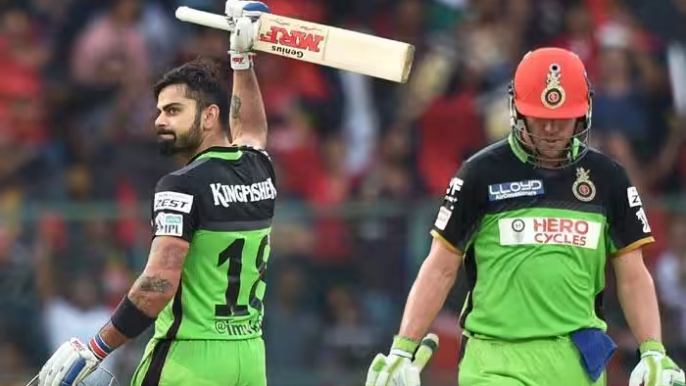 Virat's and RCB's IPL 2016 was a series of ups and downs till this point. They had lost 6 out of their 10 matches, and they did not have much room for more errors. In their next game against Gujarat Lions, we witnessed something extremely special. Virat Kohli and AB de Villiers combined for a massive 229-run stand. Both the batters scored their hundreds, and RCB finished with 248 runs in their 20 overs. At the end of 17 overs, Virat was batting at 52 off 41. Nobody thought at that moment that he could score a hundred with just 18 balls left in the innings.
He got going by hitting a couple of sixes against DJ Bravo in the 18th over. Then he went 6,4,6,6,6 and 2 against Shivil Kaushik in the 19th over. As he took this over for 30 runs, he was in touching distance with another ton. He got to the landmark by hitting another 6 to Dwayne Bravo in the final over of the innings. He got out for a 55 ball 109 that came along with 5 boundaries and 8 maximums. The last 14 balls of his knock brought 57 runs as he portrayed his extraordinary ability to accelerate at the death.
The Dominance Continued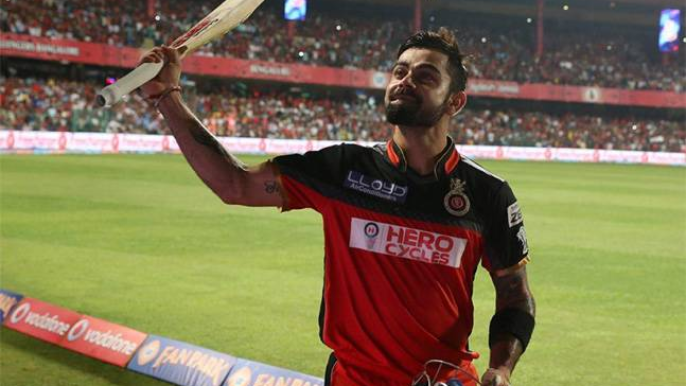 After winning by a huge margin of 144 runs against the Gujarat lions, the fortunes took a massive turn for the Royal Challengers Bangalore and their captain. Their next match was against the Kolkata Knight Riders, and they were asked to chase 186 runs in their 20 overs. They did it with 9 wickets and 10 balls to spare. Virat Kohli let the chase with a 51-ball 75 that included 5 fours and 3 sixes. He and AB de Villiers were involved in another 100+(115-run) partnership that turned out to be a match-winning one.
RCB's next game was against Kings XI Punjab, and Virat Kohli smashed another 100 in that match. Due to rain, the contest was reduced to just 15 overs per side. The Royal Challengers amassed a massive total of 211 runs in their 15 overs. Kohli scored 113 runs off just 50 balls, along with 12 fours and 8 maximums. He was a part of another huge partnership of 147 runs. This time around, it was an opening partnership between him and Chris Gayle.
RCB's last match of the league stages was against Delhi Daredevils, and they needed to win it to finish second on the points table. Their bowlers did a great job of restricting the Daredevils to 138 for 8 in 20 overs. It was turning out to be a tricky chase as the Challengers lost their first couple of wickets for just 17 runs. The Skipper Virat Kohli steadied the ship and powered His side to a 6-wicket win. He scored 54 runs in 45 deliveries with the help of 6 boundaries.
His measured knock enabled his side to win their fourth game in a row and finish second on the points table. They won 6 out of their last 7 matches in the league phase, allowing them to appear in the first qualifier.
End of A Remarkable Journey
The Royal Challengers Bangalore were up against Gujarat Lions in qualifier 1 of IPL 2016. RCB is required to score 159 runs to get into the final. Their best batsman in the season, Virat Kohli, was dismissed for a two-ball duck. His wicket brought his team under pressure, and they were in tatters at 29 for 5. A little later, they found themselves at 68 for 6 in 9.4 overs. They needed 91 more to win off 62 deliveries. It seemed like the match had gone away from their reach. But AB de Villiers played an unreal innings of 79 runs in just 47 balls to power his side to the final.
Sunrisers Hyderabad set the Royal Challengers Bangalore a 209 runs target in the final. Chris Gayle and Virat Kohli started the chase with a huge 114 opening stand. Kohli played another superb innings of 54 runs in just 35 balls. His innings had 5 boundaries and 2 maximums in it. When he got out, the equation was 69 off 43, and RCB had 8 wickets in hand. Bangalore were firm favourites to win the game from there, but they choked to lose it by just 8 runs.
Wind Up
Virat Kohli had a dream season in IPL 2016. He scored 973 runs at an extraordinary average of 81.08. His strike rate of 152.03 tells about his domination in the competition. He scored 7 half-centuries and 4 tons in only 16 innings. 973 is still the highest aggregate of runs in a single IPL season by any batsman. Virat's incredible Run in the 2016 edition is still unmatched in the cash-rich league.