The 1992 World Cup was the first-ever cricket world cup, including colored jerseys sponsored by Benson and Hedges. "Luck favors the brave" is a worthy tagline defining this world cup campaign. An essential event of such luck is the semifinal result between South Africa and England. The 1992 World Cup Final peaked with those two deliveries of Wasim Akram, who bowled to Allan Lamb and Chris Lewis. This blog rewinds the critical events of the first-ever final in which two new balls were used in an innings.
So let's get started.
Background
Cricket pioneers, England were part of two finals before they reached the 1992 World Cup final. Their first final was against West Indies in 1979, which they lost comprehensively by 92 runs. Eight years later, they were defeated by arch-rivals Australia in a closely contested 1987 World Cup final.
Pakistan was playing their first-ever final after three successive semifinal losses in the World Cup. A reasonably young side led by an experienced captain was ready to upset England for the third time.
Summary of the Group Stage
The first-ever Round-robin World Cup was fought in different venues in Australia and New Zealand. New Zealand dominated the group stage by being highly competitive against every other nine sides. South Africa and England were the other two stand-out sides from the group stage. West Indies and Australia impressed but needed more consistency.
While everyone was discussing the giants mentioned above in the game, a mercurial side emerged, "Pakistan." Despite a poor start to the campaign, Pakistan continued their inspirational journey, backed by a lucky escape from defeat in a rain-affected match against England.
Semi-Finals
Which two teams reached the 1992 World Cup Final? Was it the tournament favourites New Zealand team, or the experienced England team? Was it a motivated Pakistan team or an explosive South African team?
The first semifinal was played between Pakistan and New Zealand. In-form Martin Crowe and Ken Rutherford helped the New Zealand side to set a target of 263. Pakistan chased down this highly competitive target with the help of late heroics from Inzamam ul Haq and Moin Khan. Pakistan chased the target within 49 overs, and Inzamam won Man of the Match award for his gutsy knock of 60 off 37 balls.
In the second semifinal, Graeme Hick's extraordinary knock of 83 off 90 balls helped England to post a respectable total of 252/6. This highly intense rain-affected match continued to be competitive till the 42nd over. Then, the rain came again, and South Africa had to chase 22 off one ball (according to the D/L method). South African side was 231/6 off 42.5 overs, but unfortunately, luck wasn't in their favor, and they had to accept their defeat respectfully.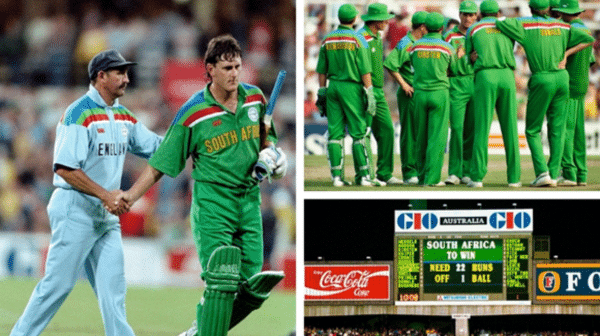 1992 World Cup Final
Pakistan won the toss and opted to bat first.
A dream start for England in the 1992 World Cup Final as Pringle removed both Pakistani openers with brilliant seam and swing bowling. Pringle and Chris Lewis proved to be a nightmare for openers Aamir Sohail and Ramiz Raja as they could not provide a dominant start to Pakistan in the final.
Solidity Provided by Imran Khan and Javed Miandad During Middle Overs
Pakistan skipper Imran Khan came one down as he stepped out to bat for the last time as an international cricketer. Pakistan failed to do well during the first 10 overs, so it was important for Imran Khan and his veteran partner Javed Miandad to dominate the middle phase of the innings. Pakistan played cautious cricket during this phase. Imran Khan's innings of 72 off 110 balls was a mixture of aggression and defense as he hit 5 fours and a six. While wounded, Javed Miandad played a sensible knock of 58 off 98 balls.
Ian Botham and Phil DeFreitas were equally threatening for England, but they failed to take wickets during the middle phase of the innings. Imran Khan and Javed Miandad proficiently used Richard Illingworth's spin bowling spell as Asian batters play spin well. Who would provide an explosive finish to Pakistan's innings in the 1992 World Cup Final?
Hero of the semifinal for the Pakistan team, Inzamam, had to rise to the occasion, but the task wasn't easy as he had to dominate the quality bowling attack of England. He came to bat in the 40th over when Javed Miandad got out while playing a reverse sweep off Illingworth's bowling. Pakistan was 163/3 during that time. Young Inzamam started his innings with a four via cut shot towards offside off Illingworth.
Wasim Akram Onslaught During Last Overs
Pakistan team made maximum use of the last 10 overs as they finished with a competitive total of 249/6. Noteworthy knocks were of Inzamam 42 off 35 balls and Wasim Akram quick fire 33 off 18 balls. Derek Pringle was a stand-out bowler for England as he finished an economical spell of 22 runs in his 10 overs quota and took 3 wickets.
Wasim Akram carried the confidence he gained from the first innings as he took the wicket of Ian Botham in the very first over of the innings. A maiden wicket over of Wasim Akram was just the start Pakistan needed in the second innings of the 1992 World Cup Final. Both Alec Stewart and Graeme Hick couldn't handle the early pressure created by Pakistan pacers and got out quickly.
Aaqib Javed's consistent length bowling proved trickier for Stewart as he nicked one to Moin Khan. Graeme Hick and captain Graham Gooch also couldn't show much resistance against Mushtaq Ahmad's leg spin bowling. It was now all left to Fairbrother and Allan Lamb to bring England back into the game.
Important Partnership Between Fairbrother and Allan Lamb
Fairbrother and Allan Lamb had a brilliant partnership as they continued to keep the scorecard moving. It was all England for about 14 overs until something magical happened. A magic that is still watched with the same enthusiasm even today. Captain Imran Khan wasn't finding a wicket from his bowling unit after an excellent start to the innings; thus, he turned to his aceman, Wasim Akram.
Wasim Akram's Two Magical Deliveries
It's the 34th over of the innings, with Allan Lamb looking super comfortable. At that moment, Wasim Akram came round the wicket, angled the ball towards right-handed Allan Lamb, and suddenly, it reversed away and castled off stump. As stated by the commentator:
"Left arm, round the wicket, Allan Lamb has been cleaned up, Perhaps! So too England."
Wasim wasn't finished here as he got the wicket of Chris Lewis on the next ball with a sharp inswinger. England, at the moment, was 141/6 in 35 overs. 109 runs more to get England to become world champions. Their only hope was a well-settled Fairbrother who needed consistent support from the other end during the last phase of the innings.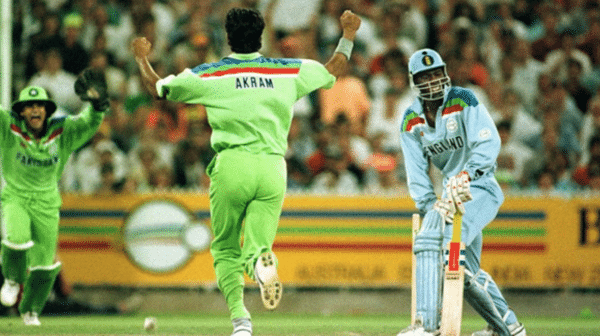 England's dream was shattered once again in a world cup final when Aaqib Javed took the wicket of Fairbrother, and all of a sudden, England was bowled out for 227 in the last over. Wasim Akram took 3 crucial wickets while he was equally supported by Aaqib Javed and Mushtaq Ahmad, who took 2 and 3 wickets, respectively. For England, Fairbrother scored a fighting 62 off 70 balls.
Mercurial giants "Pakistan" were adjudged the winners of the 1992 World Cup Final, while England, playing their third World Cup final, failed to win another. Wasim Akram won the Man of the Match award for his all-round performance, while Martin Crowe won Player of the Tournament for his champion run of Form.
Another of those miserable nights for the England side while a joyous moment for a talented young Pakistan side!!!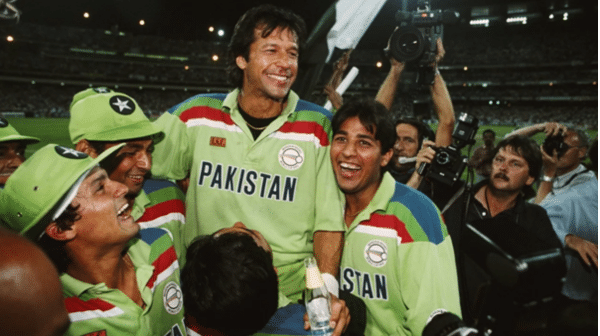 Scorecard
Here's the 1992 world cup final scorecard:
Pakistan Innings
| Batter | Runs | 4s | 6s | Strike Rate |
| --- | --- | --- | --- | --- |
| Aamer Sohail | 4 | 0 | 0 | 21.05 |
| Ramiz Raja | 8 | 1 | 0 | 30.76 |
| Imran Khan | 72 | 5 | 1 | 65.45 |
| Javed Miandad | 58 | 4 | 0 | 59.18 |
| Inzamam ul Haq | 42 | 4 | 0 | 120 |
| Wasim Akram | 33 | 4 | 0 | 183.33 |
| Saleem Malik | 0 | 0 | 0 | 0 |
| Extras | 32 | | | |
| TOTAL | 249/6 | | | |
| Bowler | Overs | Runs | Wickets | Economy Rate |
| --- | --- | --- | --- | --- |
| Derek Pringle | 10 | 22 | 3 | 2.2 |
| Chrish Lewis | 10 | 52 | 0 | 5.2 |
| Ian Botham | 7 | 42 | 1 | 6 |
| Phil DeFreitas | 10 | 42 | 0 | 4.2 |
| Richard Illingworth | 10 | 50 | 1 | 5 |
| Dermot Reeve | 3 | 22 | 0 | 7.33 |
England Innings
| Batter | Runs | 4s | 6s | Strike Rate |
| --- | --- | --- | --- | --- |
| Graham Gooch | 29 | 1 | 0 | 43.93 |
| Ian Botham | 0 | 0 | 0 | 0 |
| Alec Stewart | 7 | 1 | 0 | 43.75 |
| Graeme Hick | 17 | 1 | 0 | 47.22 |
| Neil Fairbrother | 62 | 3 | 0 | 88.57 |
| Allan Lamb | 31 | 2 | 0 | 75.6 |
| Chris Lewis | 0 | 0 | 0 | 0 |
| Dermot Reeve | 15 | 0 | 0 | 46.87 |
| Derek Pringle | 18 | 1 | 0 | 112.5 |
| Phil DeFreitas | 10 | 0 | 0 | 125 |
| Richard Illingworth | 14 | 2 | 0 | 140 |
| Extras | 24 | | | |
| TOTAL | 227/10 | | | |
| Bowler | Overs | Runs | Wickets | Ecomony Rate |
| --- | --- | --- | --- | --- |
| Wasim Akram | 10 | 49 | 3 | 4.9 |
| Aaqib Javed | 10 | 27 | 2 | 2.7 |
| Mushtaq Ahmad | 10 | 41 | 3 | 4.1 |
| Ijaz Ahmad | 3 | 13 | 0 | 4.33 |
| Imran Khan | 6.2 | 43 | 1 | 6.78 |
| Aamer Sohail | 10 | 49 | 0 | 4.9 |