The Virat Kohli vs. Shaheen Afridi rivalry was brought into debate after Shaheen's dominant performance against India during the World Cup 2021. Shaheen became the youngest to win the ICC Cricketer of the Year award in 2021. Therefore, there were consistent talks about his stats against Player of the Decade (2010-2020) Virat Kohli before every India vs. Pakistan encounter.
Here, you will acquire knowledge about Virat Kohli's stats against Shaheen Afridi in detail.
Background
Former Indian skipper Virat Kohli is a relatively senior player compared to young, exciting Pakistani pacer Shaheen Afridi. Virat debuted in 2008, while nearly a decade later, in 2018, Shaheen played his first match for Pakistan.
Before the India vs. Pakistan Asia Cup 2023 Group A match, Shaheen praised Virat Kohli in an interview. Shaheen said that legendary batter Kohli was the backbone of Indian batting and had played many world-class knocks against Pakistan.
Meanwhile, Virat was the first Indian cricketer to ask about Shaheen's recovery when both met during a training session before the India vs. Pakistan Asia Cup 2022 clash.
Virat Kohli Batting Stats Against Left-Arm Pace Bowlers
Virat Kohli's stats in limited-overs cricket are flawless. He recently became the fastest batter to score 13,000 runs in ODI cricket while the only batter to cross 4,000 runs in T20Is. Virat always had a red-hot rivalry against some top left-arm bowlers.
Virat loved the challenge against left-arm fast pacers like Mitchell Johnson, Mitchell Starc, and Muhammad Amir. In 27 ODI innings, he averaged 73.2 against these pacers while maintaining a strike rate of 102.8. Overall, he averages 41.8 against left-arm medium pace.
In the T20 International format, Kohli has an unreal average of 103 against left-arm fast pacers. He remains authoritative against left-arm medium pacers, as his strike rate is 144.1 in 48 innings.
Shaheen Afridi Bowling Stats Against Right-Handed Batters
Shaheen Afridi is yet to climb the peak of his career as the 23-year-old bowling sensation continues to improve with time. His mesmerizing in-swinging deliveries to right-handers are as good as the ones modern great Starc balls.
During his 42 ODI innings, Shaheen got the wickets of right-hand batters 58 times. His average is 23.3, and he has kept a lower strike rate (26.1). His dot ball percentage is 60.8%.
Although Shaheen's economy against right-handed batters has been higher (7.45), he got his maximum wickets against them. With an impressive average of 19.2, Shaheen has 50 dismissals against right-handed batters.
Virat Kohli vs. Shaheen Afridi Limited Overs Cricket Analysis
Virat Kohli vs. Shaheen Afridi rivalry never occurred in Test cricket as their respective teams last played a test match in 2007. Since his inaugural game, Virat Kohli's matchups against Pakistan left-arm quicks have been noticeable.
Be it Virat's face-off with Junaid Khan in the 2012 India vs. Pakistan ODI series or meaningful encounters against Muhammad Amir during various ICC tournaments, the rivalry with Shaheen has recently taken Pakistan vs. India clashes to new heights.
Let's learn about Virat Kohli vs. Shaheen Afridi head-to-head stats!
Head-to-Head In World Cups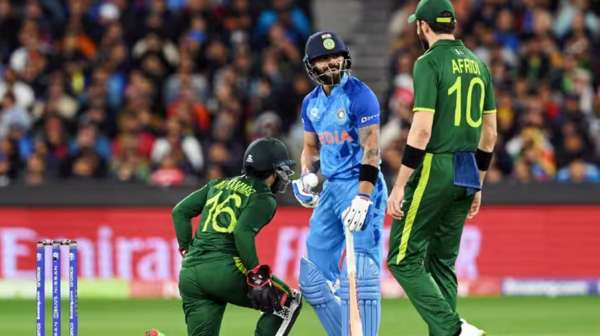 Virat Kohli faced Shaheen Afridi twice during two T20I World Cups. His first encounter against Shaheen came during World Cup 2021, where he watched Shaheen's magical new ball spell from the non-striker end. Shaheen got Kohli's wicket via a slower off-cutter delivery.
Who can forget Virat's iconic knock (82* off 53) against arch-rivals Pakistan during World Cup 2022? Shaheen was taken to the cleaners by in-form Kohli as he hit 3 fours in the 17th over of the innings.
Overall stats suggest that Virat has an outstanding strike rate of 154.5 and an average of 34.0 against Shaheen. Virat struck 4 fours and a six against him.
Head-to-Head In Asia Cups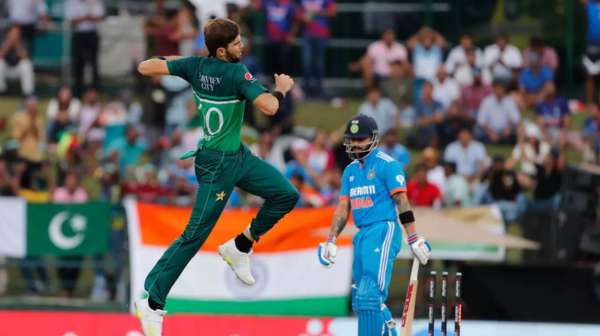 The first ODI clash of Virat Kohli vs. Shaheen Afridi occurred during the Group A match of Asia Cup 2023. At the peak of his skills, Shaheen got Kohli as he dragged one onto the stumps. Both met again during the Super 4s India vs. Pakistan match.
During that Super 4s clash, Kohli was in his vintage mode yet respected Shaheen's stature as a bowler. He batted cautiously against Shaheen but dominated other bowlers. Virat has a strike rate of 87.5 and an average of 21.0 against
Shaheen in ODI cricket. The cricketing world awaits another Virat Kohli vs. Shaheen Afridi Battle during World Cup 2023!
Ending Remarks
Virat Kohli is a legendary cricketer with almost a decade more International cricket experience than his young rival Shaheen Afridi. Shaheen is rated as a generational talent, evident from his fiery new ball spells where he got wickets of Kohli, Rohit, Finch, Butler, and other modern greats.
Rivalry of Virat Kohli vs. Shaheen Afridi took place 4 times: 2 during T20 World Cups and 2 during Asia Cup 2023. Both equally competed against each other, either skill-wise or stats-wise. Shaheen got Kohli out twice, while the Indian dominated on the other 2 occasions.