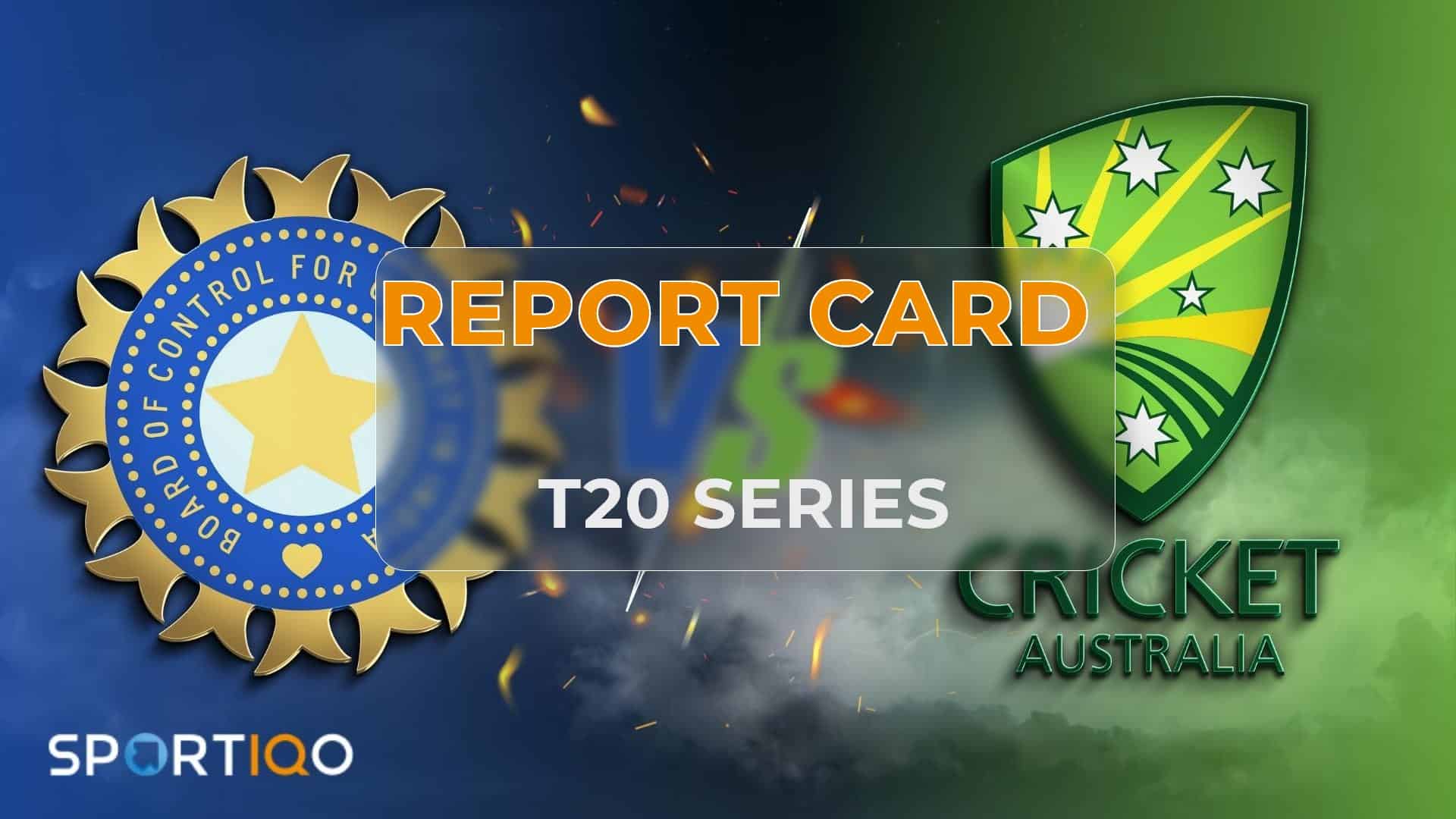 Grading the Players from India vs Australia T20I Series 2022
India won the recently concluded T20I series against Australia 2-1. The series was generally high scoring and the bowlers found it really difficult to contain the batters. There were some amazing performances throughout the series while some players could not perform as well as they and the fans must have hoped for. Here, we rate the performances of all the players who participated in this series with grades A, B and C.
India 
Hardik Pandya – A
He scored 105 runs in 3 innings at a strike rate of more than 190 and stayed composed to ace the chase in the last game of the series. He also bowled 6 overs across the 3 games and was generally economical. All signs point to good times ahead for Hardik. 
Axar Patel – A
Highest wicket-taker of the series with 8 scalps in 3 innings. He bowled with an economy rate of 6.3 in a series where most bowlers were taken apart. This was a truly exceptional performance from Axar.
Suryakumar Yadav – A
115 runs in 3 innings, highest for India and second-highest overall, at a strike rate of more than 185. SKY needs to keep this going and India will surely have a number 4 they can depend on in the upcoming T20 WC. 
Rohit Sharma – B
74 runs in 3 innings at a strike rate of 172. He set the tone for how he expects his batters to play and chased the score down in the second T20 almost single-handedly.
Virat Kohli – B
76 runs in 3 innings at a modest strike rate of 124. He laid solidity to the batting order and seems to be getting back into his groove well.
Yuzvendra Chahal – B
Only 2 wickets across 3 games, but an economy of 9.12 in a series where bowling was generally very challenging. India desperately needs him to start picking more wickets during the middle overs. 
Umesh Yadav – B
Played just one game but picked 2 important wickets.
Dinesh Karthik – B
Just 17 runs across the 3 innings but faced only 8 deliveries. His strike rate was above 212 and this means he did exactly what he is in the team for.
KL Rahul – B
66 runs in 3 innings with one score of 55 and a strike rate of 146. He looks too good when he gets going, but India would like him to play more freely at the top.
Bhuvneshwar Kumar – C
1 solitary wicket across 2 innings and an economy rate of 13. India will be worried about Bhuvi's form going into the WC.
Jasprit Bumrah – C
1 wicket across 2 innings and an economy rate of over 12. He was coming back from an injury, so was maybe a little rusty. The upcoming series for India against South Africa will be particularly important for Bumrah. 
Harshal Patel – C
1 wicket in 3 games with an economy of over 12. Harshal could not provide his usual control at the death and the team management will hope that he finds his best form soon.
Rishabh Pant – No Grade
Played 1 game. Did not get a chance to bat.
Australia
Cameron Green – A
Highest run-scorer of the series with 118 runs across the 3 games. His strike rate was over 214. What makes this truly exceptional is that he had never opened the batting in professional cricket before this series. He also picked 1 wicket and generally bowled well whenever asked to do so. It now seems bizarre to imagine that he is not a part of the Australian T20 WC team.
Matthew Wade – A
89 runs across the 3 games, a strike rate of more than 202, and getting dismissed only once. Wade was exceptional in the way he finished the innings for Australia in this series.
Nathan Ellis – A
Played just 1 game, but picked 3 wickets -joint second highest for the series, and bowled with an economy of 7.5, the second-best in the series. 
Tim David – B
74 runs in 3 games with a strike rate of more than 168 in his first series for Australia. He showcased his big-hitting ability exceptionally well and batted as per the situation when sensible batting was the need of the hour.
Aaron Finch – B
60 runs in 3 games for the Australian captain with a strike rate of more than 176. He really needs a couple of significant innings before the upcoming T20 WC for him to feel well about his own game. 
Adam Zampa – B
3 wickets across the 3 games with an economy of 9.6. He bowled well overall and offered his captain good control throughout the innings. 
Josh Hazlewood – B
3 wickets in 3 innings with an economy of 11. What must have bothered Josh is that he was not regularly trusted with bowling at the death, something he might like to address in the upcoming games.
Daniel Sams – B
2 wickets in 2 games with an economy of 10.25. He regularly bowled the tough overs and mostly held his own in tough bowling conditions.
Steven Smith – C
Smith batted at number 3 in this series and scored 52 runs across the 3 innings with a strike rate of 133. Smith must be extremely worried as his place in the XI seems to be in danger for the upcoming T20 WC after the way Tim David has performed in this series. 
Glenn Maxwell – C
Maxwell could never really get going in this series. He was able to score just 7 runs across the 3 games. 
Josh Inglis – C
41 runs in 2 innings at a strike rate of 128. He couldn't really grab his opportunity. 
Pat Cummins – C
The Australia Test captain could manage only 2 wickets in 3 games in this series with an economy of 11. The conditions were extremely difficult for bowlers in this series, but Cummins should still have done better.
Sean Abbot – C
He played just 1 game and bowled only 1 over, conceding 11 runs. He must have hoped for a better opportunity to showcase his skills.