Starting his international career at the age of 30, Suryakumar Yadav's rise has been meteoric. He did not take much time to establish himself in India's T20I side and from thereon he has become the most destructive T20 batter India has ever produced. 
Currently positioned as the number one ranked batter in T20 internationals with 890 rating points, Yadav strikes at an enormous rate of 180.97 in T20Is. Usually, he gets going from the moment he steps into the pitch and never looks uncomfortable against any type of bowling.
There's no dearth of power-hitting batters around the T20 circuit and they are all capable of hitting sixes with ease. So what makes Suryakumar Yadav apart from the rest of the T20 specialist batters? Let's find out. 
Reasons behind the dominance of Suryakumar Yadav in the T20 Format
Looking at Yadav's stats in T20 formats will give you a fair idea about his supremacy. You can hardly argue against concrete statistical data. His strike rate, the number of boundaries he hits, and the consistency in converting his starts to bigger innings – all indicate his greatness in the 20-over format. 
But data alone can't show the entire picture. We will analyze in detail why he is so celebrated as a T20 batter and how he is always one step above his contemporaries.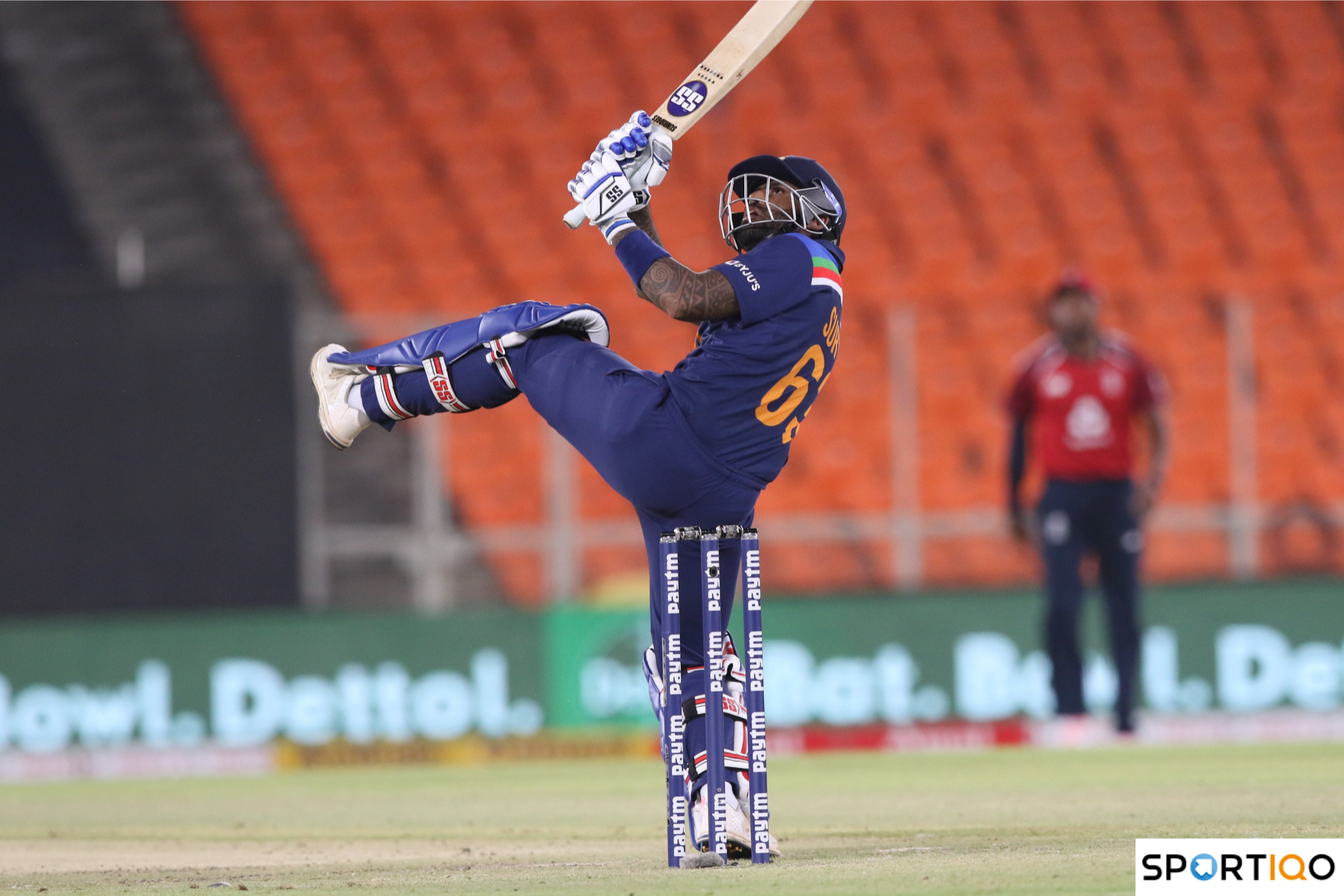 Fearless attitude
Suryakumar Yadav, quite literally, began his international career with a bang. While facing a menacing Jofra Archer, the right-hand batter effortlessly hooked a short-pitched delivery for a six in his first ball in India colours. In their initial few balls, many batters try to get their eye in before showing aggression. But Suryakumar Yadav, on many occasions, has chosen to open his account with a four or a six.  
In his own words, reducing the percentage of fear of failure has lent him this aggressive mindset. But a certain mentality can only give you a psychological edge over others. You need to have the skill to make that psychological advantage count and Yadav does not lack that. 
Since 2021, the energetic batter has hit the most number of sixes in T20 internationals, with 80 sixes in only 40 innings. Mohammad Rizwan comes in second with 64 sixes but he has played 11 more innings than Yadav. The sheer ability to send the ball out of the boundary doubled with a fearless attitude, make Yadav a dreaded T20 batter.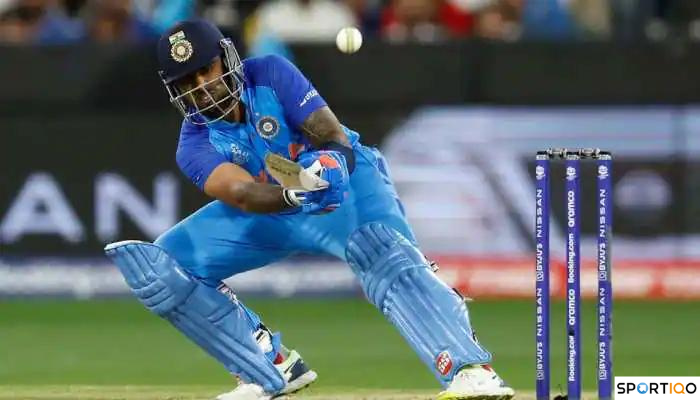 Vast array of shots
Yadav can hook or pull the short-pitched length. For hard-length deliveries, he goes for inside-out shots. And when the bowler pitches a delivery a bit fuller, he exhibits a wide range of his shots – sweep, scoop, paddle scoop, ramp, and whatnot. Justifiably, he is called Mr. 360°. 
His scoop shots have now become mythical while targeting behind the square boundaries on the leg side. He compels the opposition captain to put two fielders in that region which only leaves them with only three fielders to cover more than 3/4th area of the ground. That sort of fielding set-up brings out his other shots, such as straight down-the-ground shot, inside-out, cut, from his repertoire.
To prevent him from going for his strong sweep shots, bowlers try to bowl at a wider length. But that sort of strategy hasn't been too successful. In India's last Super-12 game against Zimbabwe, Richard Ngarava took the responsibility to bowl India's last over of the innings. Yadav faced four deliveries, all were widish in line and fuller in length, and scored 18 runs, hitting at a strike rate of an astonishing 450.00. In that match, the animated batter's unbeaten 61 off 25 balls was one of the best individual performances in the Super-12 round of the T20 World Cup 2022.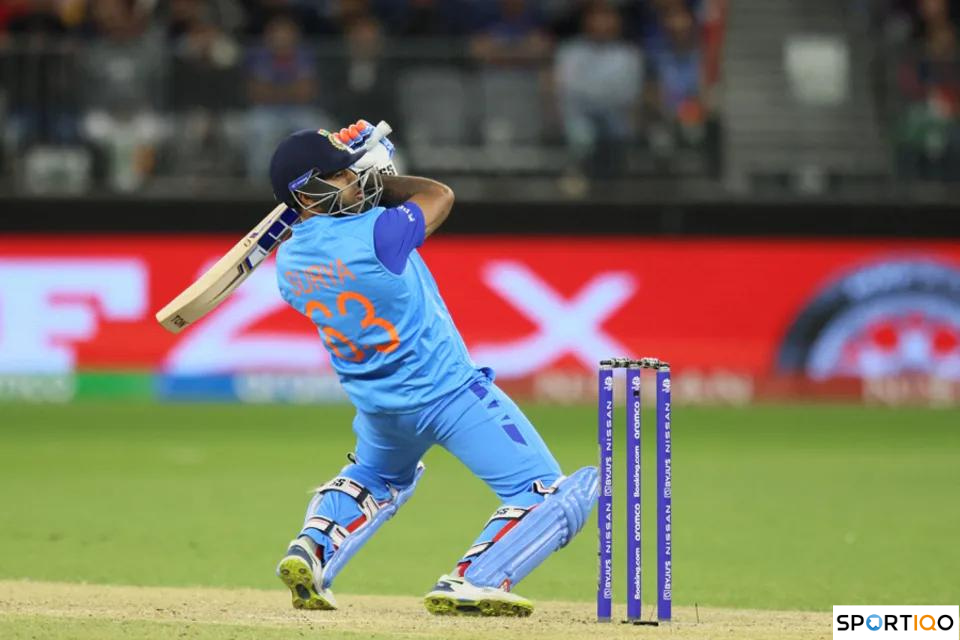 Unflinching against adverse situation
In India's first super-12 match of T20 World Cup 2022 against arch-rival Pakistan, Yadav came to the crease when the score was 10/2 after 3.2 overs. Pakistani pacers were breathing fire utilizing the favorable bowling condition. The talismanic batter sent the first delivery to the long-on boundary with a straight drive, unperturbed by the condition, opposition, pressure, and everything.
The condition was more hostile in Perth when all the other Indian batters were finding it difficult to cope with South Africa's relentless pacers. India lost half of their side within 9 overs. In that situation, most of the batters would look to play with caution. But Yadav is not like any other batter.
He almost single-handedly took India to a modest total of 133 after scoring fluent 68 runs with a tremendous strike rate of 170.00. To perceive the value of the innings and to put things into perspective, India's second-best scorer was Rohit Sharma with 15 runs and the second-best striker was Virat Kohli with a strike rate of 109.09. There was no doubt that he had been considered one of the top performers of the T20 World Cup 2022 Super-12s.   
Constantly pressing the accelerator
India's top three batters in T20Is take an orthodox approach of taking time to build innings before launching an attack. Because of that, Yadav knows very well that coming at number 4 he can't afford to waste deliveries and he starts from the word go.
As his innings move forward he becomes more brutal. In his 40 T20I knocks, Yadav reached 50 or more on 14 occasions. Out of those 14 innings, 7 had been scored with a strike rate of more than 200. This stat shows that he is a consistent run scorer while reaching fifty once in less than three innings without restraining his risk-taking attitude.
Wrap up
Suryakumar Yadav has played some blinders while playing the role of an enforcer. When the team faced batting collapses, he became the rescuer. His sheer adaptability has given the team much-needed flexibility. He can play text-book straight drive as well as those jaw-dropping unorthodox shots that you can find only in his repertoire. The opposition has tried a plethora of tactics against him, but each time the batter has found a way. And thus Suryakumar Yadav, or SKY as he is fondly called, has expanded the limits of his ability to become the most dangerous.