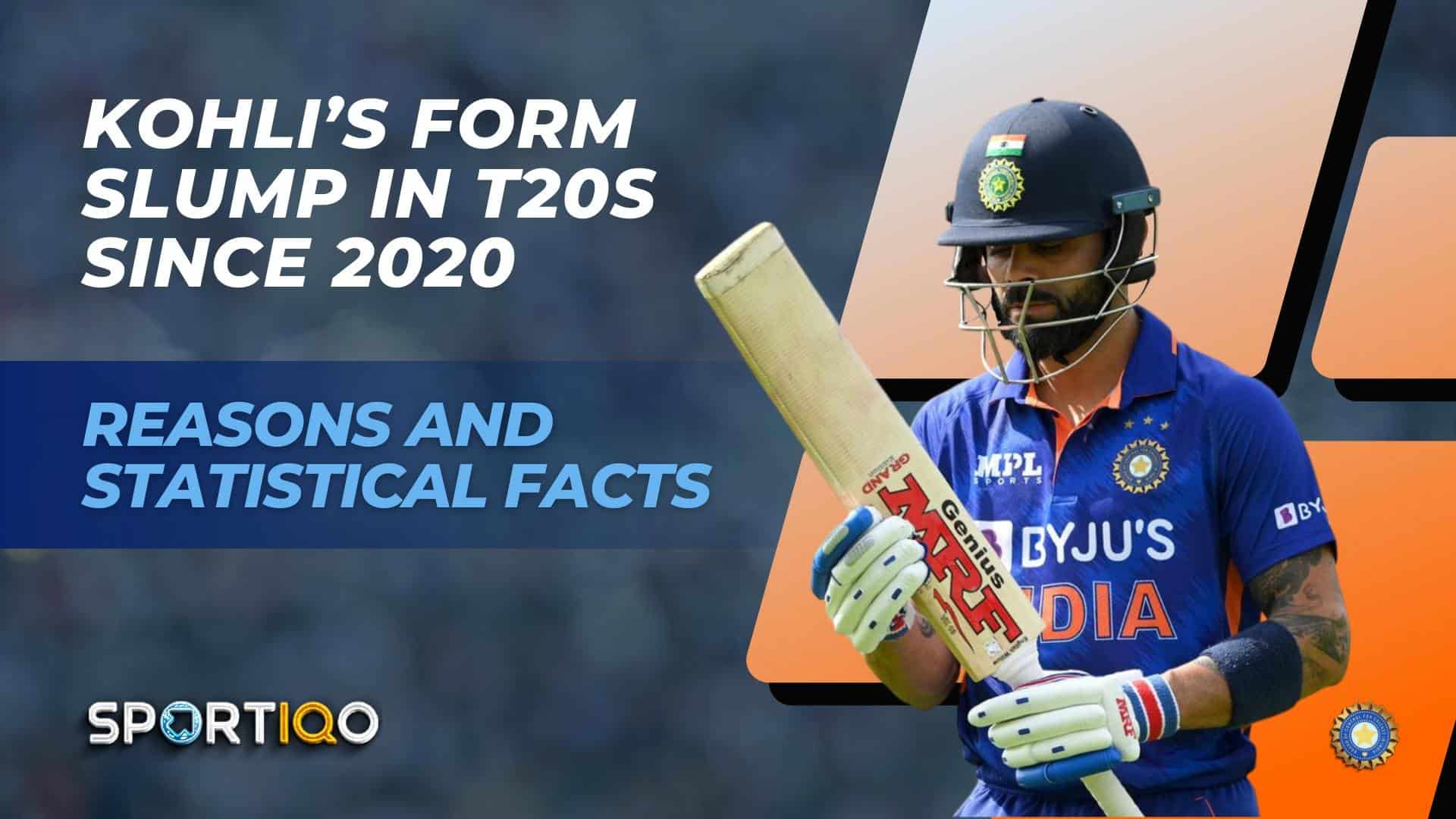 Image Credits: supersport.com
Analysis of Kohli's Form Slump in T20s
Arguably, the greatest cricketer of this era has been struggling in T20 cricket for almost 3 years now. Yeah, you heard that right! Virat Kohli has not been able to meet the standards he had set for himself in the past.
But where does the problem lie, and has he rectified the issue? Is he struggling against spin, and what should we expect from him in the future? To find the answers to all these queries, read this blog till the end.
The Start of the Rough Patch
Virat was the ICC cricketer of the last decade and won the ICC player of the year award thrice in 2012, 2017, and 2018. He is an artist of his craft and the past decade saw him touch new heights of success and fame in the cricketing fraternity.
But unfortunately, he couldn't finish the decade on a high. That's not it; the new decade has only brought him more trouble, especially in T20 cricket.
In 2019, he scored 466 runs averaging 77.67 with a stunning strike rate of 147.94. But, following a defeat to New Zealand in the 2019 ODI World Cup semi-final, his average slipped to 36.88 in 2020 – the strike rate also fell to 141.83.
It kept getting worse for him in terms of strike rate as he scored 299 runs striking 132.89 in the next year.
What Are the Reasons?
Peeps who follow cricket know that Kohli's career took an uprise in 2012 and kept climbing higher. But, a continuous fall was waiting for him in 2020, and he is still battling it.
Let's see what turned those crests into troughs.
In 2021, former Pakistani fast bowler Muhammad Asif reflected on Kohli's batting technique:
"Kohli is a bottom-hand player. He is doing well because of his fitness, and it is supporting him. The moment he faces a decline, I don't think Kohli can make a comeback."
As Virat's downfall prolonged, cricket fans started to hail Asif for his analysis. But is that what really happened to him?
With all due respect to Asif, this is not the reason. You can't score 24,000 international runs just because of your fitness. Also, different players have different techniques and methods to score runs.
Yes, he's a bottom-handed player, but that's his strength. The same technique has given him all the achievements he has. So, the argument of a faulty technique is not a sound one.
In an interview before the Asia Cup 2022, VK said that his mental health was taking a toll on his performance. Also, he admitted that he was trying to fake his intensity on the field, and it just fanned the flames.
If you are Virat's fan, you must have noticed that he seemed lost somewhere on the field. The mental setback is understandable as India lost yet another knockout game in the 2019 WC to New Zealand. Then, they also lost the World Test Championship final to the same team in 2020.
Even before that, India lost semi-finals in the 2015 ODI WC and 2016 T20 WC, in addition to losing the T20 WC final in 2014 and the Champions trophy final in 2017.
So, India choked 6 times in ICC knockouts when Virat was in his prime form. Therefore, all these failures might have affected his mental health.
Trouble on the 4th Stump Line
Virat's 4th stump struggle is not something new. That was a major area of concern in the early days of his career. But, he later overshadowed it with his form and a longer front foot stride.
Now, it has come to light again as he has a decline in his form. In the last 3 years, he had hung his bat at many deliveries he could have left alone.
Can't Resist the Cover Drive
VK is known for his classy cover drive, but as they say, "your strength can become your weakness." Kohli has got out multiple times while playing that cover drive early on in his innings.
Also, he has played many deliveries on the front foot that he should have played on the back foot, looking for the cover drive.
Statistical Analysis of the Last 3 Years
The following table represents Kohli's last 3 years in T20Is in numbers:
| | | | | | | | | |
| --- | --- | --- | --- | --- | --- | --- | --- | --- |
| Year | Runs | Avg. | 50s. | SR | Balls | Boundaries | Balls/Boundary | Dot % |
| 2020 | 295 | 36.9 | 1 | 141.83 | 208 | 28 | 7.4 | 20.7 |
| 2021 | 299 | 74.8 | 4 | 132.89 | 225 | 35 | 6.4 | 30.2 |
| 2022 | 359 | 44.9 | 3 | 139.69 | 257 | 42 | 6.1 | 28.4 |
Underlying is the same numerical analysis for VK's last 3 IPL seasons:
| | | | | | | | | |
| --- | --- | --- | --- | --- | --- | --- | --- | --- |
| Year | Runs | Avg. | 50s. | SR | Balls | Boundaries | Balls/Boundary | Dot % |
| 2020 | 466 | 42.4 | 3 | 121.4 | 384 | 34 | 11.3 | 26 |
| 2021 | 405 | 28.9 | 3 | 119.4 | 339 | 52 | 6.5 | 37.2 |
| 2022 | 341 | 22.7 | 2 | 116 | 294 | 40 | 7.35 | 39.1 |
From the above set of stats, we can conclude the following facts:
The average is pretty low in the last 2 seasons of the IPL. But, the overall average has been decent.

The strike rate has been falling continuously in these 3 years and has been poor in the IPL.

The average

number of deliveries per boundary

has decreased, but the dot balls percentage has increased.

The last point shows that his strike rotation hasn't been good enough. He has scored more boundaries but has also played more and more

dot balls

.

To sum it up, Virat has not been able to capitalise on his strength, i.e., the strike rotation. It happens only when a batter is out of touch.
Virat's Struggle Against Spin
Virat is known as one of the top players of spin. But of late, he has struggled to get going against slower bowlers.
VK's SR against pace in T20 cricket since 2019 is 133.33, which isn't bad. But, he could only manage an SR of only 112.99 against spin in that period.
Moreover, in the IPL 2021 and 2022, he was striking at only 91.41 and 118.64 against spin. That SR is quite ordinary by all standards. In contrast, he was striking at a rapid 142.89 and 133.33 against pace in these two seasons.
So, it's fair to say he got into a shell while playing spin. And if he wants to return to form, he must find a way to dominate spin.
Is Kohli Back to Form?
"Form is temporary, but class is permanent." VK's class was on display as he scored 276 runs in the recently concluded Asia Cup, striking at 147.59.
He was the 2nd highest run-getter in the tournament. But the highest run-getter, Rizwan, was striking at only 117.57 and played an extra game too.
The ex-Indian captain finished the tournament on a real high by smashing his maiden T20I ton against Afghanistan. His 122* off 61 showed signs of the return of the KING.
However, it's way too early to say that he has regained his form as a big test is waiting for him in the form of the T20 WC in Australia.
Virat is a great player, and great players know how to put themselves out of a bad patch. Considering his improvements and the hunger for runs, we might see Virat enjoying another purple patch soon. Certainly, the tens of millions of Kohli fans will be wishing to see their favorite player back at his very best.