The 27th match of the Cricket World Cup 2023 was held in Himachal Pradesh Cricket Association Stadium, Dharamshala. Australia hoped to secure their 3rd win, whereas Kiwis looked forward to their 4th World Cup 2023 victory. In the previous 11 encounters, Australia enjoyed an edge of defeating New Zealand 8 times. This blog will cover everything that you need to know about one of the most epic games of World Cup 2023 so far.
Let's get into the details of the Aus vs NZ clash!
Toss and Playing XIs
The New Zealand captain, Tom Latham, won the toss and chose to bowl first in this high-pressure match.
The players who took to the ground in this Aus vs NZ clash are listed below:
Australia's Playing XI
David Warner
Travis Head
Mitchell Marsh
Steve Smith
Marnus Labuschgane
Glenn Maxwell
Josh Inglis (wicket-keeper)
Pat Cummis (captain)
Mitchell Starc
Adam Zampa
Josh Hazelwood
New Zealand's Playing XI
Devon Conway
Will Young
Rachin Ravindra
Daryl Mitchell
Tom Latham (wicket-keeper and captain)
Glenn Phillips
James Neesham
Mitchell Santner
Matt Henry
Trent Boult
Lockie Ferguson
Aus vs NZ World Cup 2023 Scorecard
You can find the scorecard of this action-packed game below:
Australia's Innings
BATTERS
Runs
Balls
Strike Rate
4s
6s
David Warner
81
65
124.62
5
6
Travis Head
109
67
162.69
10
7
Mitchell Marsh
36
51
70.59
2
0
Steve Smith
18
17
105.88
2
0
Marnus Labuschagne
18
26
69.23
2
0
Glenn Maxwell
41
24
170.83
5
2
Josh Inglis
38
28
135.71
4
1
Pat Cummins
37
14
264.29
2
4
Mitchell Starc
1
3
33.33
0
0
Adam Zampa
0
3
0
0
0
Josh Hazelwood
0
0
0
0
0
Extras
9
TOTAL
388/10 (49.2 overs)
| Bowlers | Overs | Maidens | Runs | Economy | Wickets |
| --- | --- | --- | --- | --- | --- |
| Matt Henry | 6.2 | 0 | 67 | 10.58 | 1 |
| Trent Boult | 10 | 0 | 77 | 7.7 | 3 |
| Lockie Ferguson | 3 | 0 | 38 | 12.67 | 0 |
| Mitchell Santner | 10 | 0 | 80 | 8 | 2 |
| Glenn Phllips | 10 | 0 | 37 | 3.7 | 3 |
| Rachin Ravindra | 8 | 0 | 56 | 7 | 0 |
| James Neeshan | 2 | 0 | 32 | 16 | 1 |
New Zealand's Innings
BATTERS
Runs
Balls
Strike Rate
4s
6s
Devon Conway
28
17
164.71
6
0
Will Young
32
37
86.49
4
1
Rachin Ravindra
116
89
130.34
9
5
Daryl Mitchell
54
51
105.88
6
1
Tom Latham
21
22
95.45
2
0
Glenn Phillips
12
16
75
1
0
James Neeshan
58
39
148.72
3
3
Mitchell Santner
17
12
141.67
1
1
Matt Henry
9
8
112.5
1
0
Trent Boult
10
8
125
0
1
Lockie Ferguson
0
1
0
0
0
Extras
26
TOTAL
383/9 (50 overs)
| Bowlers | Overs | Maidens | Runs | Economy | Wickets |
| --- | --- | --- | --- | --- | --- |
| Mitchell Starc | 9 | 0 | 89 | 9.89 | 0 |
| Josh Hazelwood | 9 | 0 | 70 | 7.78 | 2 |
| Pat Cummins | 10 | 0 | 66 | 6.6 | 2 |
| Glenn Maxwell | 10 | 0 | 62 | 6.2 | 1 |
| Adam Zampa | 10 | 0 | 74 | 7.4 | 3 |
| Mitchell Marsh | 2 | 0 | 18 | 9 | 0 |
Australia's Innings
A Fiery Start For Australia
The two Aussie openers, David Warner and Travis Head stepped onto the Dharamsala ground in their must-win encounter with the Kiwis. The duo wasted no time in showcasing their destructive batting skills. They formed a staggering 175-run 1st-wicket partnership off 117 deliveries.
This rapid start allowed them to cross the 50-run mark in just 5 overs. In the 8th over, David Warner completed his half-century in 21 balls.
Travis Head soon followed his partner as he celebrated his half-century in the next over. He accomplished this feat off just 25 runs. Both openers continued with their fierce nature of batting as they smashed 10 sixes in the 1st powerplay.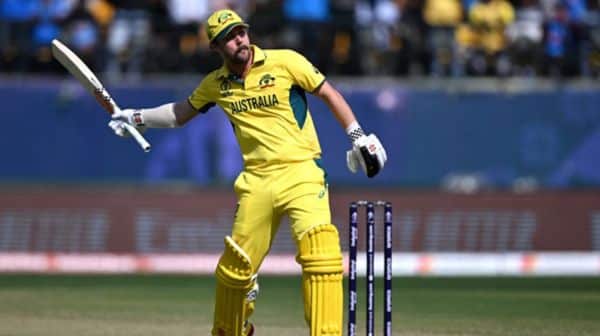 After 10 overs, Australia were 118 with zero wickets lost. In the 20th over, New Zealand achieved their 1st breakthrough as David Warner had to depart for 81 runs (off 64 balls). His impressive knock included 5 fours and 6 sixes.
Middle-Order Wobbles
Mitchell Marsh now accompanied Travis Head at the crease. The pair were able to put 25 more runs on the scoreboard. This brief partnership aided Travis to complete his 4th ODI century off 59 balls in the 22nd over. It was Travis Head's 1st World Cup 2023 century in his very first Cricket World Cup Match.
Unfortunately, Travis's celebration did not last long, as he was bowled by Glenn Phillips in the 24th over. Head departed for 109 runs off 66 deliveries with 10 fours and 7 sixes in his impressive knock. This dismissal earned Glenn Phillips his 2nd wicket of the match.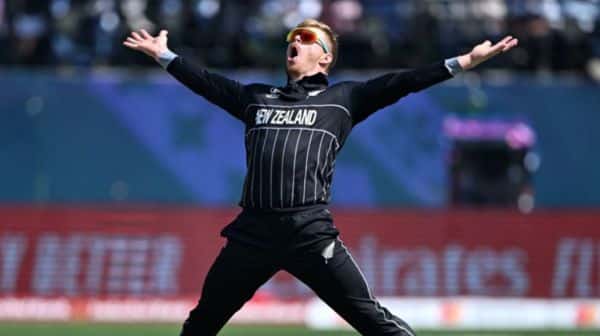 Steve Smith came out to join Mitchell Marsh in the thrilling Aus vs NZ match. Steve was only able to contribute 10 runs to his team's total as he was removed by Glenn Phillips. Glenn picked his 3rd wicket of the clash in the 30th over.
Things took a slow turn for Australia owing to the collapse of the middle-order batters. Marnus Labuschagne and Mitchell Marsh formed a union of 36 runs off 41 deliveries. However, Mitchell Marsh had to return to the dugout in the 37th over after being dismissed by Mitchell Santner.
Maxwell and Inglis Kept Runs Flowing
Glenn Maxwell replaced Marsh at the crease. Australia lost their 5th wicket in the 39th over as Marnus Labuschagne had to depart for only 18 runs off 25 balls.
It earned Mitchell Santner his 2nd wicket of the Aus vs NZ clash as Rachin Ravindra took an easy catch. Australia appeared unstable as they went from 174/0 to 274/5 in 20 overs.
Josh Inglis now accompanied Australian star batsman Glenn Maxwell. The duo put up a rapid 51-run partnership off 38 balls. The alliance helped stabilize things for Australia.
In the 43rd over, Maxwell had to return to the pavilion as he fell prey to Jimmy Neesham's delivery. He contributed 41 valuable runs off 23 balls to his team's total. Maxwell also smashed 5 boundaries and 2 maximums in his aggressive knock.
Pat Cummins Propels Australia To 380+
The Australian skipper, Pat Cummins, came out to join Josh Inglis at the crease. The pair put up a rapid partnership of 62 runs off just 22 balls. The partnership aided Australia to put a massive score on the scoreboard.
The 49th over by Trent Boult immensely helped the Kiwis to limit the Aussies below 400 runs. On the 1st delivery of this phenomenal over, Trent removed Josh Inglis for 38 runs off 27 balls.
Just one delivery later, the Australian captain had to return to the pavilion because of being given out LBW. Pat Cummins tried to extend his stay on the crease by taking a review but was unsuccessful in his attempt. Cummins contributed 37 runs off just 13 balls to his team's total.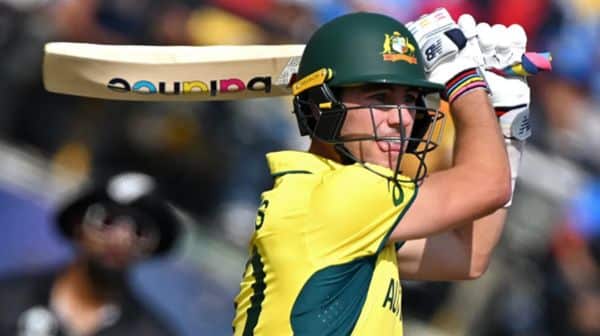 In the last delivery of the same over, Trent successfully removed the new batsman, Adam Zampa, for a duck. Trent Boult claimed 3 wickets in this over and conceded zero runs.
Josh Hazelwood and Mitchell Starc now found themselves at the crease in the last over. The Australian innings came to an end in 49.2 overs as an attempted six by Mitchell Starc fell short of the boundary and into the hands of James Neesham.
Australia were all bowled out with a massive total of 388 runs on the board. It marked the 3rd consecutive 350+ target in the ICC Cricket World Cup 2023.
New Zealand's Innings
A Stable Start For the Kiwis
The two Kiwi openers, Devon Conway and Will Young, stepped onto the crease with a massive total of 389 runs to chase. The duo crossed the 50-run mark in the 6th over. The pair formed a 61-run partnership off 44 deliveries.
In the 8th over, Devon Conway had to depart for 28 runs off 16 deliveries. He was removed by Josh Hazelwod, and Mitchell Starc took a stunning catch. Will Young was now joined by Rachin Ravindra, the young Kiwi star player.
The 2nd breakthrough for Australia occurred in the 10th over. Will Young returned to the pavilion for 32 runs off 36 deliveries. The dismissal gave Josh Hazelwood his 2nd wicket as Mitchell Strac took the catch. The scoreboard for New Zealand read 72/2 after 10 overs.
Mitchell-Ravindra Partnership
Daryl Mitchell accompanied Rachin Ravindra at the crease. The pair formed a partnership of 96 runs off 86 deliveries. This alliance aided Daryl Mitchell in completing his half-century in the 22nd over. He achieved this feat off 42 balls and included 6 fours and a maximum.
In the 24th over, Daryl Mitchell had to return to the pavilion for 54 runs off 51 balls. The catch was once again taken by Mitchell Starc, his 3rd catch of the match.
Middle-Order Responds In Times of Need
The Kiwi captain, Tom Latham, replaced Daryl Mitchell to partner Ravindra at the crease. They formed a union of 54 runs off 44 balls. In the 27th over, an appeal for LBW was made by Glenn Maxwell, which led to Australia losing their review.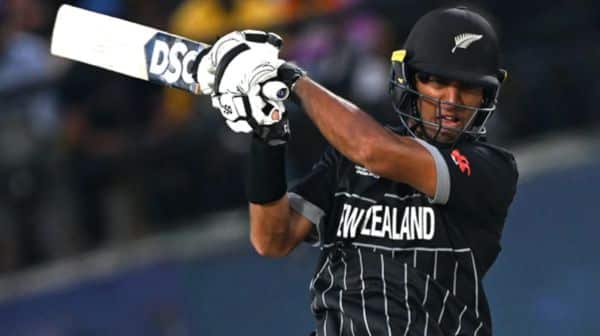 Rachin Ravindra completed his half-century off 49 deliveries in the 28th over. The Kiwi captain fell prey to Adam Zampa as he returned to the dugout for 21 runs. Glenn Phillips replaced the wicket-keeper batsman at the crease. Rachin and Phillips added 43 more runs to their team's total.
In the 37th over, Rachin Ravindra smashed a 6 to complete his 2nd Cricket World Cup 2023 century off 77 balls. In the same over, Glenn Phillips returned to the dugout for a mere score of 12 runs off 16 balls. Glenn Maxwell took this wicket. The Kiwi's score read 265/5 after 37 overs.
James Neesham Shines
In the 41st over, Rachin Ravindra's outstanding innings came to an end. The star player was removed by Aussie captain Pat Cummins. Ravindra departed for 116 runs off 89 deliveries. The 23-year-old player's impressive knock included 9 boundaries and 5 maximums.
Mitchell Santner joined James Neesham in this exciting AUS vs NZ clash. The duo added 27 more runs to the scoreboard.
In the 44th over, Adam Zampa secured his 3rd wicket of the match with Mitchell Santner's dismissal. Santner returned to the dugout for 17 runs off 11 balls. Matt Henry also failed to stand by James Neesham's side as he departed in the 47th over for 9 runs.
Final-Over Drama
Trent Boult came out and formed a 36-run partnership off 18 balls with Neesham. This led the Kiwis closer to their run chase with a dramatic last over.
All eyes were on in-form batsman Neesham when 7 runs were required from 2 balls. Unfortunately, Neesham was run out by Marnus Labaschgane as the batsman tried to get back on strike. Neesham departed for 58 runs off 39 balls.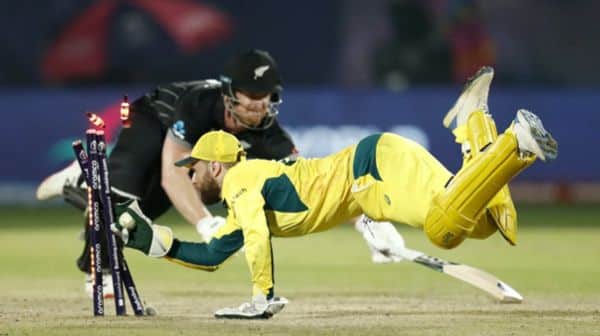 A 6 from the final ball was required for the Kiwis to secure their 4th win of the World Cup 2023. Unfortunately, Lockie Ferguson was unable to hit a maximum, and Australia won by 5 runs in this high-scoring encounter.
Conclusion
The action-packed Aus vs NZ match made the record for the highest aggregate in a World Cup match with 771 runs in both innings. Travis Head was named the Player of the Match for his maiden World Cup century in his Cricket World Cup debut. This high-scoring encounter went up to the last ball and can be easily labeled as the most thrilling match of the World Cup 2023 so far.
Many outstanding individual performances surfaced in this action-packed game. Three half-centuries (by David Warner, Daryl Mitchell, and James Neesham) and 2 centuries (by Rachin Ravindra and Travis Head) were made in this match. Adam Zampa, Trent Boult, and Glenn Phillips took 3 wickets each in this nail-biting encounter.
Marnus Labuschagne received some well-deserved praise from cricket analysts all over the world for his crucial boundary save in the last over, as well as his critical run-out of James Neesham.