In this era, Australians are quite blessed to have several high-class fast bowlers. The country has a reputation for producing legendary pacers, and they have continued to do so. Josh Hazlewood and Pat Cummins are currently two of the finest pacers going around. They have already achieved several feats, and many more await them.
But which one of them is better? Read to the bottom to find out!
Bowling Styles and Methodology
Pat Cummins hits the deck hard to get the maximum out of it. He likes to bowl the back-of-length delivery to challenge both edges. His stock ball is the one coming into the right-hander. But the deadly variation that gets him so many wickets is the one holding its line outside the off-stump. At times, he goes full at the pads to surprise the batter. He also has a fine bouncer and a decent yorker at the death.
Being a tall individual, Josh Hazlewood uses his height to great effect. He also persists with the back-of-length delivery that seams away from the right-hander. The variation is the fuller ball targeting the pads. His short-pitch bowling is highly effective as well. In the slog overs, he bowls a fine yorker and also varies his pace cleverly.
Another aspect of the bowling of these two blokes is their extra pace. Josh is not generally known for pace, but like Pat, he can also bowl over 90 miles an hour. Moreover, both of them are exceptional with the reverse swing. When the bowl reverses, their pace goes up naturally.
Performance Comparison in Test Cricket
Pat Cummins' Test career consists of 49 matches, and he has bowled more than 10,000 deliveries. He has taken 217 wickets in just 90 innings. His economy rate is just 2.73, and he picks a wicket every 47.2 balls. He has picked 8 five-fors and a 10-fer in his Test Career.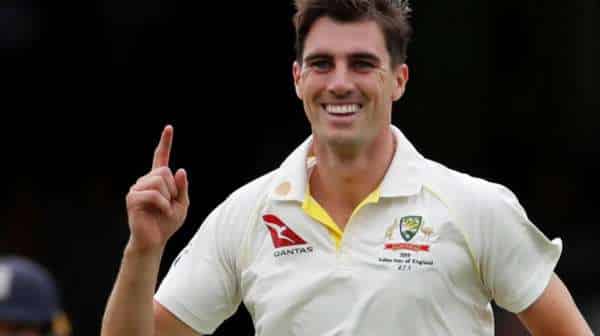 Josh Hazlewood has played 59 Tests and delivered more than 12 and a half thousand balls. Bowling in 111 innings, he has snaffled 222 scalps. He gives just 2.71 runs per over and dismisses a batter in every 9 and a half overs. He also has 9 five-wicket-hauls in this form of cricket.
The wickets to innings ratio for Cummins and Hazlewood is 2.4 and 2, respectively. Josh has a slightly better economy, but Pat is ahead in terms of the strike rate. It's not difficult to conclude that the current Aussie skipper has been a better Test bowler till now.
Performance Comparison in ODIs
Pat Cummins' 75 ODIs have brought 124 wickets for him. His economy and strike rate in the format are 5.21 and 31.27. He has also got 4 four-fers and one 5-fer in the 50-over format. Even in the One Day Internationals, he has bowled almost 4000 deliveries.
Josh Hazlewood has delivered more than 3600 balls in this format. His 69 matches have produced 108 wickets. The seamer has an outstanding economy rate of 4.57, and he gets a wicket in every 33.5 balls.
If we calculate the wickets-to-innings ratio of Cummins in ODIs, it comes out to be 1.65. Whereas the same ratio for Hazlewood is 1.59. Cummins also has a better strike rate. However, Hazlewood is way ahead in terms of the economy rate. That's why he has to be declared a better ODI bowler than his fellow fast bowler.
Performance Comparison in T20Is
Josh has featured in 41 T20 Internationals and picked 58 wickets. His economy rate is 7.68, and he grabs a wicket almost every 16 deliveries. He has also got 4 four-wicket-hauls with a best of 4 for 12.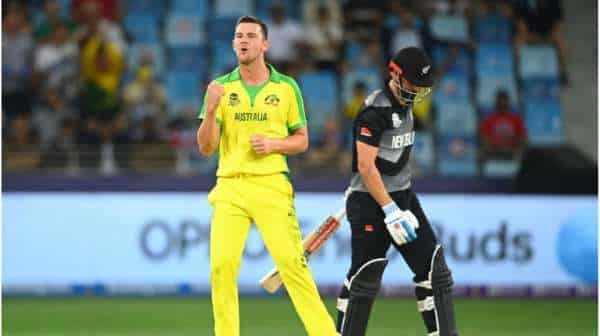 Pat has grabbed 55 wickets in 50 T20 International matches. His best bowling figures in the format are 3 for 15. He has an impressive economy rate of 7.37, and he sends a batsman back to the pavilion almost every 20 balls.
Pat has a wicket to innings of 1.1 as compared to 1.4 of Josh. The former has a lead in terms of economy, but the latter's strike rate is a lot better. Therefore, Hazlewood has got a clear edge over Cummins in the shortest format of the game.
Performance Comparison in IPL
Hazlewood made his IPL debut in 2020 and is currently playing his 4th season. He has picked 35 wickets in 27 matches in the cash-rich league. His economy and strike rate are 8.06 and 17.23, respectively. His best figures in the league are 4 for 25.
Cummins started his IPL career way back in 2014. He has played 6 editions till now to pick 45 wickets in 42 games. He strikes in every 21.18 balls and gives runs at an economy rate of 8.54. 4 for 34 are his best bowling figures in the Indian Premier League.
Hazlewood and Cummins take 1.29 and 1.07. The former also has a better economy and a strike rate. So, Hazlewood is undoubtedly a better IPL bowler.
Josh Hazlewood vs. Pat Cummins: Who is Better?
The two Aussie quicks are one of the best in the business. They have been performing consistently for several years and are close to 400 wickets in International cricket. Pat has 396 International wickets in 215 innings, while Josh has got 388 International scalps after 220 innings.
Cummins certainly is a better Test bowler, but Hazlewood has got the upper hand in white-ball cricket. It might be a surprise for most of the readers, but when it comes to an all-format bowler, Josh Hazlewood has had a better career as compared to Pat Cummins.