That's one question that we hear way too often. Cricket fans and experts are divided on this. People have now even started to ask AI programs which is the better one among the two batting greats. If you are also looking for the answer to this question, you have come to the right place.
Here, we will be analyzing the techniques and the career state of the two batters to figure out who has got an edge. So, let's get on with it!
Start of Their Careers
Virat Kohli's Career Beginning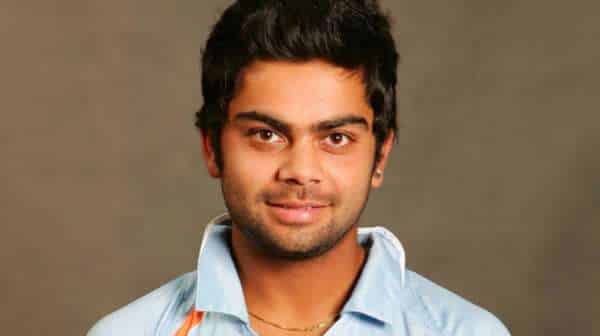 Virat Kohli made the headlines after leading India U-19 to glory in the 2008 World Cup. His International debut came in the same year as he was called up for the ODI series against Sri Lanka. When he made an entry into International cricket, India already had plenty of batting talent in their camp.
Legends like Sachin Tendulkar, Rahul Dravid, VVS Laxman, Virender Sehwag, Gautam Gambhir, Yuvraj Singh, and Mahendra Singh Dhoni were indispensable. India also had some young talent in the form of Rohit Sharma and Suresh Raina.
So, Virat had to fight his way to get a permanent spot in the team. He made his T20I debut in 2010 and played his first Test match in 2011. He was also able to find a place in the star-studded India team for the 2011 World Cup.
Babar Azam's Career Beginning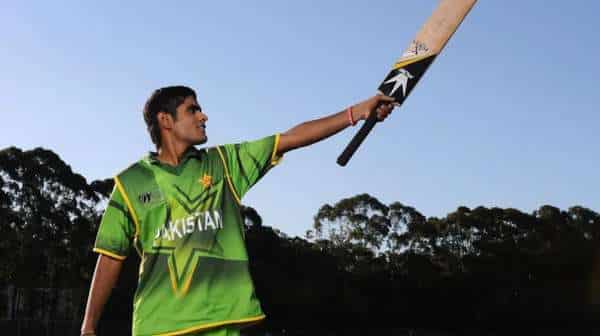 When Kohli was making his International debut, Babar was participating in the Under-15 World Championship. The Pakistani then went on to play in the 2010 and 2012 Under-19 World Cups. He was his team's top run-scorer in both these editions. He then continued to impress in domestic cricket.
The right-hander finally got an opportunity to play for the national side. Pakistan's batting struggled badly in the 2015 World Cup. It was followed by the retirements of Younis Khan, Misbah-ul-Haq, and Shahid Afridi. Ahmad Shehzad and Umar Akmal were dropped from the team. In essence, the team was going through a batting crisis.
Babar's first International match was an ODI against Zimbabwe in 2015. He scored a half-century batting at #6, and that was the start of something special. In 2016, he cemented his place in the ODI side and was given the important one-down position.
The cricket fraternity started talking about him when he scored 3 consecutive hundreds against West Indies in a 3-match series in UAE. This stellar run saw him making his T20I and Test debut a few months later. He was a part of Pakistan's T20 World Cup squad in 2016 but didn't get an opportunity to play.
The 2017 Champions Trophy saw him play his first match in a senior-level ICC event. He was impressive in the tournament but didn't have any big scores. Azam's first World Cup match was in the 2019 ODI World Cup. He hit 474 runs in the tournament, becoming the Pakistani with the most runs in a single edition of the World Cup.
Babar Azam vs. Virat Kohli– Technical Analysis
Kohli's Batting Methodology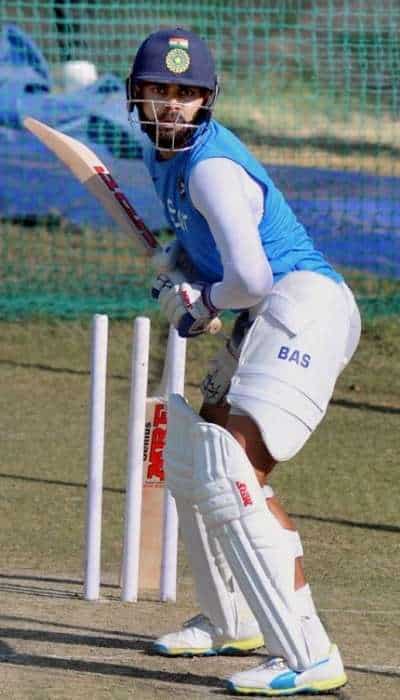 Virat Kohli's technique started getting questioned when he repeatedly edged the balls in the 4th stump channel. He then had a high back lift with minimal feet movement. Later, he changed his technique by getting an even higher back lift and a much bigger stride. The stride helped him negate that 4th stump threat, as he could reach those balls on the front foot.
However, the change also made him vulnerable to the ball swinging in. When he was going through a poor run of form post the 2019 World Cup, he once again started to edge those 4th stump channel deliveries. Against spin, he uses that big stride to get close to the pitch of the ball. Also, he is quick to get back on the back foot.
Babar's Batting Methodology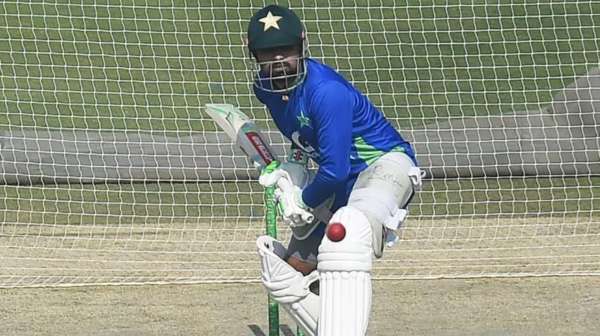 When Babar started his career, he had a low back lift, both against pace and spin. He still plays the spin the same way but has a completely different approach to pace. He now has a very high back lift that allows him to dominate on the back foot. He doesn't use his feet much and banks on hand-eye coordination to manage his front-foot play.
Comparison in Test Cricket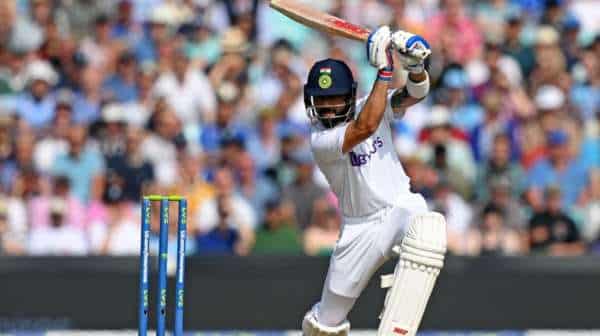 Let's try to find the answer of who's better when it comes to Babar Azam vs Virat Kohli. Babar Azam has played 38 Test matches till now. His 3696 runs have come at an average of 48.63 and include 26 fifties and 9 centuries in 85 innings. His best Test innings was his 196 runs in the fourth innings against Australia.
Virat Kohli has 8479 runs in the format in 109 matches. In 185 knocks, he has amassed 8479 runs along with 28 tons and as many half tons. He averages 48.73 in the longest format of the game. His best Test innings must be his 149 runs against England in the first match of the 2019 Test series.
The two batsmen have almost the same average, and there's not much to distinguish between them. So, we can say that their Test careers are alike.
Comparison in One Day Internationals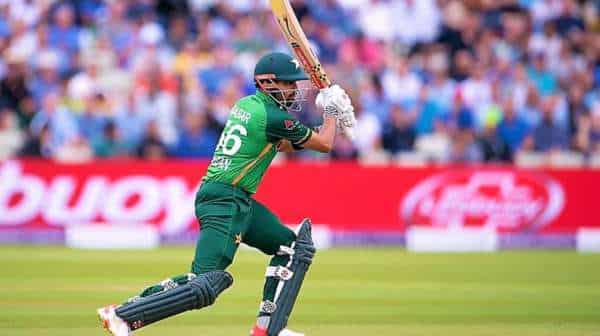 One Day International is the best format for both of these blokes. Among the players with over 2000 runs in the format, Babar has got the highest while Virat has got the second-highest average.
In 100 matches, Babar has got 5089 runs at an average of 59.17 and 89.25. He has 18 hundreds and 26 fifties in 98 innings. The match-winning hundred against New Zealand is his greatest ODI knock to date. Meanwhile, Kohli averages 57.32 and strikes at 93.63 after 274 One Day matches. His 265 innings have produced 65 half-centuries and 46 centuries. His 183 runs against Pakistan in Asia Cup 2012 is still his best ODI innings.
Babar has a better average, but Kohli has a better strike rate. Both of them have stunning numbers that are matchless for anybody else. Therefore, their ODI stats also don't give a verdict on Babar Azam vs Virat Kohli debate.
Comparison in T20 Internationals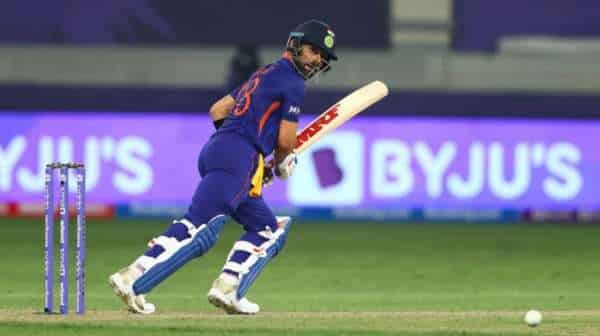 Virat has 4008 runs in the shortest format of the game. He averages 52.74 and strikes at 137.97 after 107 outings with the bat. He has 37 half tons, along with a maiden ton. His greatest T20I innings was undoubtedly his 82* against Pakistan in the 2022 T20 World Cup.
Babar's best T20I knock came in the 2021 World Cup when his half-century helped Pakistan beat India for the first time in a World Cup match. The Pakistani has an average of 41.49 and a strike rate of 128.41. He has made 30 fifties, 3 hundreds, and 3485 runs in 98 knocks.
The Indian clearly is much better at average and SR. The Pakistani has more centuries in fewer matches. So, who's a better T20I player, if we talk about Babar Azam vs Virat Kohli? The latter emerges on the top in this case.
ODI World Cups Comparison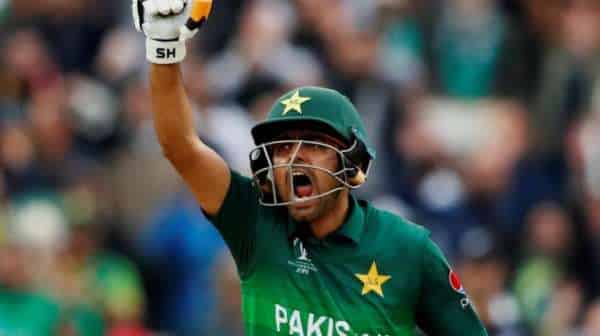 In 3 ODI World Cups, Kohli piled up 1030 runs at an average of 46.82. He smashed 6 half-centuries and 2 hundreds while striking at 86.7. Babar has featured in only one ODI World Cup, where he picked up 474 runs at an average of 67.71. He scored 3 fifties and a century in only 8 innings and had a healthy strike rate of 87.94.
Virat's failures in 2011, 2015, and the World Cup semi-finals also don't support his cause. Azam also has an edge in stats, so he has to be declared the better one here.
T20 World Cups Comparison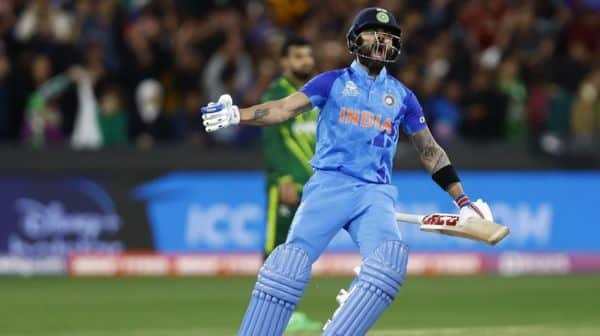 Once again, we talk about Babar Azam vs Virat Kohli, this time in the T20 World Cups. The former was the top run-scorer in his first T20 World Cup in 2021. In 2 T20 WCs, he amassed 427 runs while averaging 35.58 and striking at 114.48. He made five 50s in 13 innings.
The latter's stats in T20 World Cups are just way too good. In 25 knocks, he has plundered 1141 runs at a mammoth average of 81.5. His strike rate is 131.3, and he has 14 half-centuries to his name. So, he certainly has an edge here.
Comparison In Big Matches
Virat In Knockout Encounters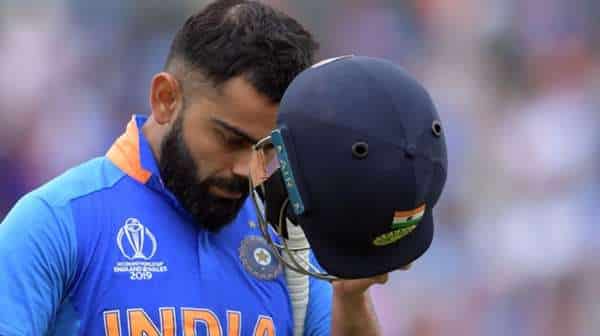 Let's take a look at Virat's scores in ODI World Cup knockouts:
24(33), 9(21), 35(49), 3(8), 1(13), 1(6)
Here are his scores in Champions Trophy knockouts:
58(64), 43(34), 96(78), 5(9)
His batting scores in T20 WC Knockouts are:
72(44), 77(58), 82(51), 89(47), 50(40)
The Indian has forgettable numbers in ODI World Cup knockouts. In 6 knocks, he had got only 73 runs at a poor strike rate of 56. His performance in Champions Trophy knockout games was decent, apart from that failure in the 2017 Champions Trophy final. If we talk about his record in T20 World Cup knockouts, it's as good as it can get.
Babar In Knockout Encounters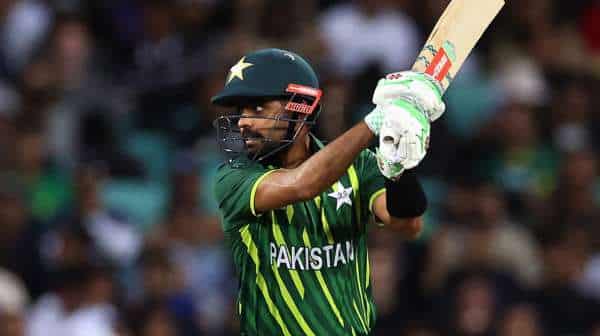 Since we are talking about Babar Azam vs Virat Kohli in crunch games, underlying are Babar Azam's scores in CT Knockout games:
46(52), 38*(45)
His scores in T20 World Cup knockouts are:
39(34), 53(42), 32(28)
The Pakistani hasn't played any ODI World Cup knockout match till now. In overall ICC knockouts, he has scored over 30 in each game. He didn't choke in any of those matches and made 208 runs at an average of 52. The strike rate of 103 could have been better, but he is definitely ahead of Kohli in crunch games. Also, Babar was the Player of the Match in both the qualifier and the final when his team won the PSL.
Babar Azam vs Virat Kohli– Who is Better?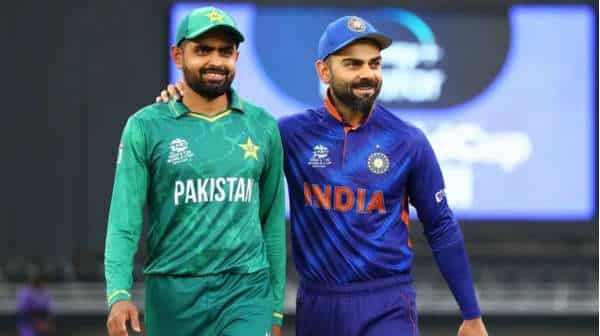 As per the stats, the two stars have similar records in Tests and ODIs. Kohli is ahead in T20Is and T20 World Cups, while Babar has an edge in ODI World Cups and knockout matches. So again, there's not much to differentiate the two. But there's something more important to focus on.
The comparison can only be drawn between the players of the same generation. But these two guys are not exactly of the same generation. Azam is 28 years of age, while Kohli is 34. The former started his career 8 years ago while the latter had already played for around 7 years till then.
Moreover, the Indian has featured in 498 International fixtures till now, while the Pakistani has played just 251 matches till now. Virat has played 8 World Cups, while Babar has been a part of only 3 World Cups. So, we need to wait for maybe 6 more years to tell who's better.
But you can certainly have your opinion about it. Babar Azam vs Virat Kohli, who do you think is the best batsman? Tell us in the comment box!