Asia Cup is the most prominent cricket tournament in Asia that includes top Asian sides. The tournament is hosted by an Asian country that is selected during Asian Cricket Council meetings. From 1984 to 2022, a total of 15 editions were contested, and each participating side fought hard to make their place in the Asia Cup winners list.
You will be given a detailed overview of all Asia Cup winners from 1984 to 2022 in the next section. So, let's get started!
Asia Cup Winners Till 2000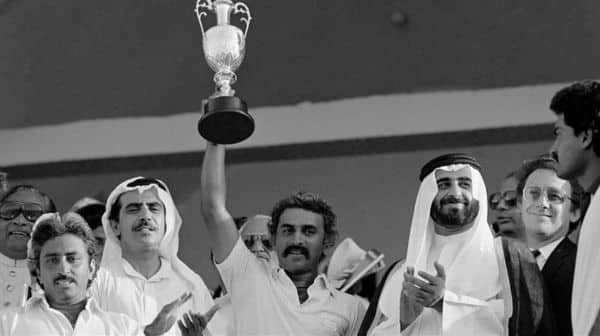 Asia Cup 1984
This Asia Cup Winners list covers all those seven competitions played till 2000. The inaugural Asia Cup took place in 1984 at the iconic Sharjah International Cricket Ground, and the teams which participated were: India, Pakistan, and Sri Lanka. India comprehensively won both encounters against the other two sides and thus was crowned Champions of Asia Cup 1984 based on the points table.
Asia Cup 1986
After the first non-final-based Round-Robin Asia Cup tournaments, all subsequent editions of the Asia Cup included a qualification for the Final that will later decide the winner. Home team Sri Lanka won Next Asia Cup 1986, leading the points table by competing against Pakistan and Bangladesh. Due to unfortunate relations with Sri Lanka, India was not part of this Asia Cup.
Asia Cups (1988, 1990, 1995)
India continued their domination as Asian giants as they later won three consecutive Asia Cups (Asia Cup 1988, 1990, and 1995) by defeating Sri Lanka on all occasions in closely contested finals.
Asia Cups (1997, 2000)
Later, the Sri Lankan side took revenge for previous losses as they conquered the Indian side during Asia Cup 1997 Final. Mercurial Pakistan side emerged in Asia Cup Winners list for the first time in Asia Cup 2000. Therefore till 2000, only four sides, i.e., Pakistan, India, Sri Lanka, and Bangladesh, were part of the Asia Cup, and India had won most Asia Cups (4) until then.
Asia Cup Winners (2004, 2008, 2010)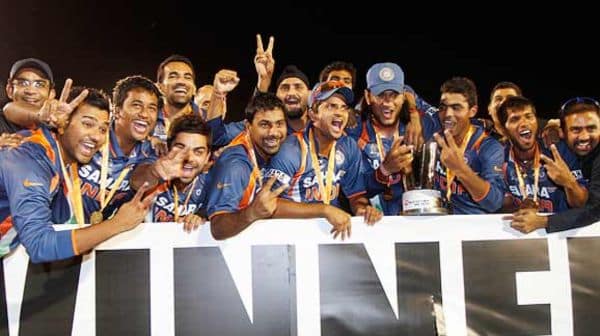 Asia Cup 2004
From 2000, all preceding Asia Cups included coloured jerseys. Two more sides were added, i.e., Hong Kong and United Arab Emirates (UAE), for the Asia Cup 2004. This Asia Cup was the first ever Group stages and Super-4 based Asia Cup. Sri Lanka triumphed over India in the final as they added another Asia Cup trophy to their cabinet.
Asia Cup 2008
For the second successive edition, the Glorious Sri Lankan side equalled India's Asia Cup trophies column as they lifted Asia Cup 2008. The format of Asia Cup 2008 was the same as in 2004, and the same six sides participated. Sri Lanka were victorious in a one-sided final against India.
Asia Cup 2010
Asia Cup 2010 was another dominant edition for India and Sri Lanka. The format was changed to pre-2000 Asia Cups as only four sides (Pakistan, India, Sri Lanka, and Bangladesh) got involved during this edition. Pakistan fought well, but their resistance wasn't enough to dethrone India or Sri Lanka. India clinched their 5th Asia Cup title success as they rattled Sri Lanka in the final.
Asia Cup Winners (2012, 2014, 2016)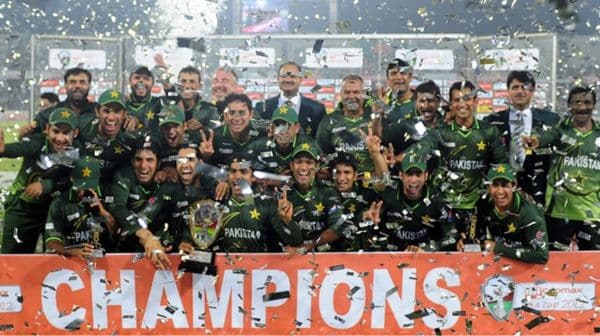 Asia Cup 2012
Asia Cup 2012 was the breakout tournament for Bangladesh Tigers as their golden generation started hitting the peak of their career. They troubled the other three oppositions (Sri Lanka, Pakistan, and India) and reached their first-ever Asia Cup Final. But evenly, they lost to a world-class bowling attack of Pakistan as Pakistan clinched their second Asia Cup title. That was the first-ever Asia Cup final that didn't include India or Sri Lanka.
Asia Cup 2014
Sri Lanka once again was added to the Asia Cup winners list as they got the better of defending champions Pakistan in the Final of Asia Cup 2014. Afghanistan made their first-ever appearance in Asia Cup during this edition. This was also the first time India failed to reach the Asia Cup final on two successive occasions.
Asia Cup 2016
Asia Cup 2016 was the first-ever edition played in the T20 format. UAE took part in this competition after 2008. Most successful Asia Cup side "India" left no stone unturned as they commandingly made it to the final. India pulled off the win in the final after comfortably defeating the inspirational Bangladesh side on their home soil.
Asia Cup Winners (2018, 2022)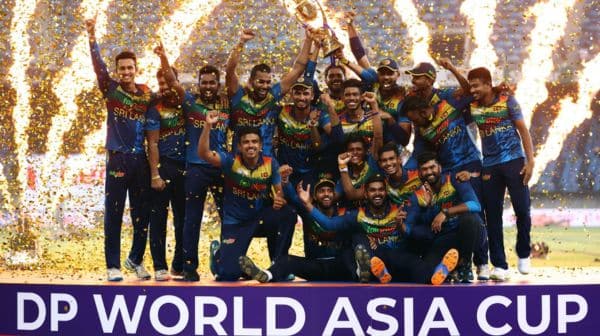 Asia Cup 2018
Another ODI format-based Asia Cup took place in 2018. Hong Kong and Afghanistan were the two associate sides who booked their place in this round-robin tournament alongside the other four experienced sides. Ever improved Bangladesh side was highly motivated to make their mark in the Asia Cup winners list as they qualified for the second successive Final. But luck wasn't in their favour as they lost to the great Indian side in consecutive finals.
Asia Cup 2022
The only team giving a tough time to India in the race for Asia Cup trophies was undoubtedly Sri Lanka. Next Asia Cup happened just before the T20 World Cup 2022, so all teams fought hard to take the momentum for the world cup.
The young Sri Lanka side rattled an in-form Pakistan unit in the Final of Asia Cup 2022 and inched closer to India's title success. Asia Cup 2022 also was contested in a T20 format.
Countries That Hosted Asia Cups From 1984 to 2022
Bangladesh hosted most Asia Cups (Asia Cup 1988, 2000, 2012, 2014, and 2016), while the second most Asia Cup editions took place on the beautiful island of Sri Lanka (Asia Cup 1986, 1997, 2004, and 2010) and diverse culture land of UAE (1984, 1995, 2018 and 2022).
India and Pakistan got Asia Cup host rights for once among all of its editions since 1984. Both countries organized Asia Cup in 1990 and 2008, respectively. Most Asia Cup finals are contested at Sher-e-Bangla National Cricket Stadium in Bangladesh.
Ending Remarks
A total of 15 editions of the Asia Cup have been contested from 1984 to 2022. India is the most triumphant Asian side that has earned record 7 titles (1984, 1988, 1990, 1995, 2010, 2016, and 2018), while not far behind, Sri Lanka conquered 6 titles (1986, 1997, 2004, 2008, 2014, and 2022). Pakistan is third on the Asia Cup winners list, with two title successes (2000 and 2012).
Bangladesh made three successive appearances in the Final of Asia Cups (2012, 2014, and 2016) but failed to be on the winning end. Most finals are fought between Sri Lanka and India (8). Only three finals didn't include Sri Lanka, i.e., 2012, 2016, and 2018 finals. The other three sides participating in various Asia Cups are Hong Kong, UAE, and Afghanistan.
List of Asia Cup Winners Of Each Season
The following table shows the Asia Cup winners list from 1984 to 2022, including the Runners-Up and venues that hosted the final:
| Asia Cup Edition | Year | Host Country | Winning Team | Runner-Up Team | Final Winning Margin |
| --- | --- | --- | --- | --- | --- |
| 1st | 1984 | UAE | India | Sri Lanka | Points table based |
| 2nd | 1986 | Sri Lanka | Sri Lanka | Pakistan | 5 wickets |
| 3rd | 1988 | Bangladesh | India | Sri Lanka | 6 wickets |
| 4th | 1990 | India | India | Sri Lanka | 7 wickets |
| 5th | 1995 | UAE | India | Sri Lanka | 8 wickets |
| 6th | 1997 | Sri Lanka | Sri Lanka | India | 8 wickets |
| 7th | 2000 | Bangladesh | Pakistan | Sri Lanka | 39 runs |
| 8th | 2004 | Sri Lanka | Sri Lanka | India | 25 runs |
| 9th | 2008 | Pakistan | Sri Lanka | India | 100 runs |
| 10th | 2010 | Sri Lanka | India | Sri Lanka | 81 runs |
| 11th | 2012 | Bangladesh | Pakistan | Bangladesh | 2 runs |
| 12th | 2014 | Bangladesh | Sri Lanka | Pakistan | 5 wickets |
| 13th | 2016 | Bangladesh | India | Bangladesh | 8 wickets |
| 14th | 2018 | UAE | India | Bangladesh | 2 wickets |
| 15th | 2022 | Sri Lanka | Sri Lanka | Pakistan | 23 runs |