The first edition of the ILT20 league will start on the 13th of January and conclude on February 12. Cricket fans were eagerly waiting for the revelation of the schedule, and it has finally been announced now. Here, you will find the comprehensive ILT20 league schedule along with the venues and match timings.
To unveil all the details regarding the schedule, keep reading.
ILT20 League Teams
Six different teams will be in the race for the Champions title. Those teams are:
UAE League Format
The league format will be a double round-robin for the upcoming tournament. The six teams will play each other twice in the league stage. It will take the total number of league matches to 30. After the league stages, the competition will proceed to the playoff round, where 4 games will be held, including the final. Therefore, the total number of games in the ILT20 league is going to be 34.
Most of the games will be night matches, as only 5 double-headers have been scheduled. Those 5 double-headers will be contested during the weekends. All the night games will start at 7:30 pm, and all the day games will begin at 3:30 pm, as per the Indian Standard Time.
The top 4 teams, based on points and net run rate, will progress to the playoff stage. The first qualifier will be played between the 1st and 2nd place teams on the points table. In contrast, the 3rd and 4th position teams will lock horns in the first eliminator.
Then, the winner of the first eliminator will contest the losing team of the first qualifier in the second qualifier. The conquerors of the first and second qualifiers will face each other in the final of the league.
ILT20 League Venues
Dubai, Abu Dhabi, and Sharjah will be the three venues for the inaugural season of the UAE T20 league. Underlying are the complete details:
UAE T20 League Key Dates
Abu Dhabi Knight Riders will take on Dubai Capitals in the opening game of the ILT20 league on January 13th. The match will be played in the Dubai International Stadium.
After the completion of the league stages, the 1st qualifier is scheduled to be played on the 8th of February. This game will also be held in Dubai International Stadium. Sharjah International Stadium will host the 1st eliminator on February 9. Then, the caravans will move back to Dubai for the 2nd qualifier on the 10th of February.
Dubai International Stadium will also host the final of the ILT20 League 2023, which is scheduled on February 12.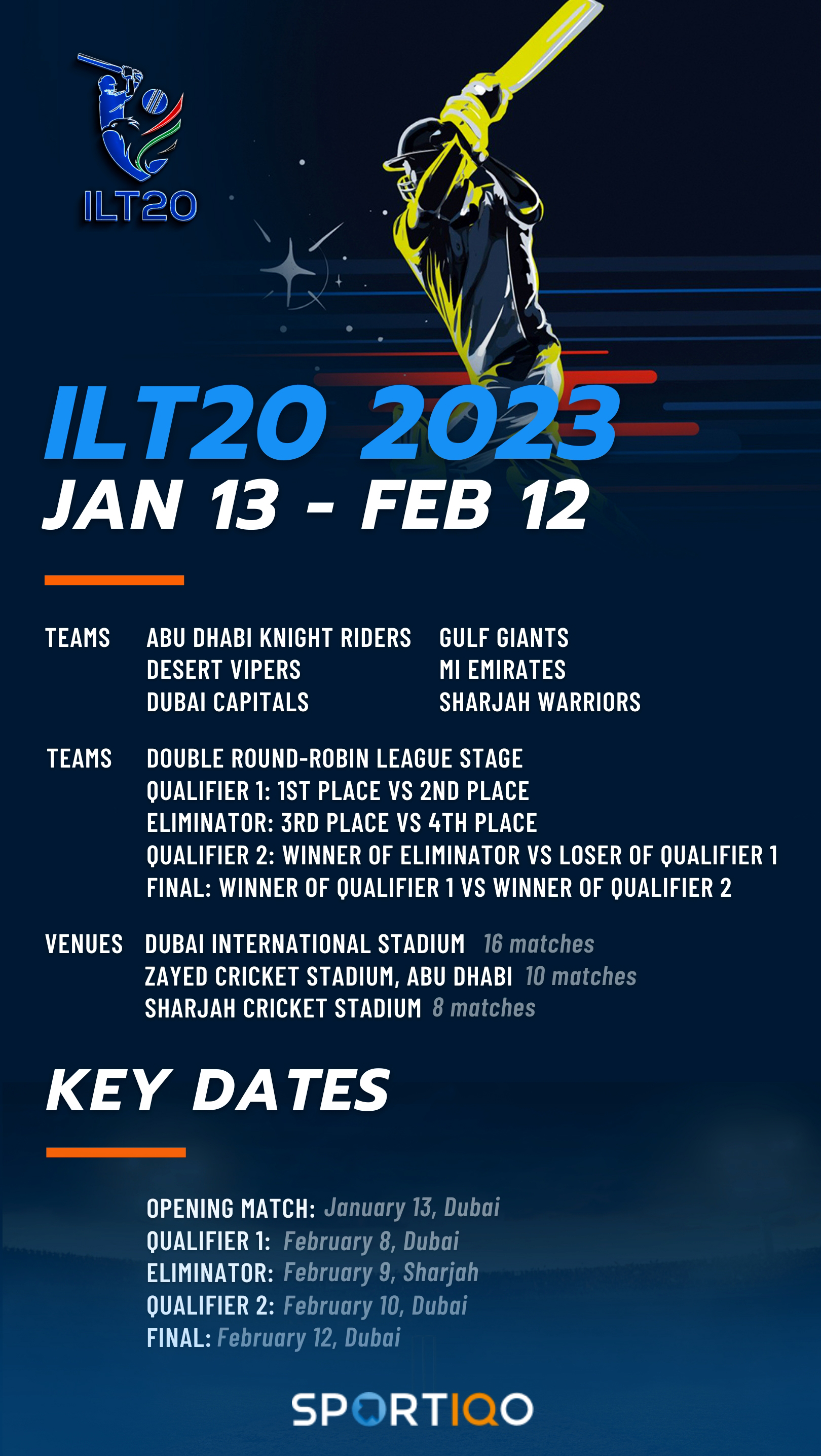 ILT20 League Full Schedule
Underlying is the full list of all the matches of UAE's ILT20 League 2023:
| Match Number | Team 1 | Team 2 | Match Date | Match Time (Local) | Match Time (IST) | Venue |
| --- | --- | --- | --- | --- | --- | --- |
| 1 | Dubai Capitals | Abu Dhabi Knight Riders | 13-01-2023 | 18:00 | 19:30 | Dubai International Cricket Stadium, Dubai |
| 2 | MI Emirates | Sharjah Warriors | 14-01-2023 | 18:00 | 19:30 | Sheikh Zayed Stadium, Abu Dhabi |
| 3 | Abu Dhabi Knight Riders | Gulf Giants | 15-01-2023 | 14:00 | 15:30 | Sheikh Zayed Stadium, Abu Dhabi |
| 4 | Desert Vipers | Sharjah Warriors | 15-01-2023 | 18:00 | 19:30 | Dubai International Cricket Stadium, Dubai |
| 5 | Dubai Capitals | Gulf Giants | 16-01-2023 | 18:00 | 19:30 | Dubai International Cricket Stadium, Dubai |
| 6 | Sharjah Warriors | MI Emirates | 17-01-2023 | 18:00 | 19:30 | Sharjah Cricket Stadium, Sharjah |
| 7 | Abu Dhabi Knight Riders | Desert Vipers | 18-01-2023 | 18:00 | 19:30 | Dubai International Cricket Stadium, Dubai |
| 8 | Dubai Capitals | Gulf Giants | 19-01-2023 | 18:00 | 19:30 | Sheikh Zayed Stadium, Abu Dhabi |
| 9 | Abu Dhabi Knight Riders | Desert Vipers | 20-01-2023 | 18:00 | 19:30 | Sheikh Zayed Stadium, Abu Dhabi |
| 10 | Dubai Capitals | Sharjah Warriors | 21-01-2023 | 14:00 | 15:30 | Dubai International Cricket Stadium, Dubai |
| 11 | Abu Dhabi Knight Riders | MI Emirates | 21-01-2023 | 18:00 | 19:30 | Sheikh Zayed Stadium, Abu Dhabi |
| 12 | Desert Vipers | Gulf Giants | 22-01-2023 | 14:00 | 15:30 | Dubai International Cricket Stadium, Dubai |
| 13 | Dubai Capitals | MI Emirates | 23-01-2023 | 18:00 | 19:30 | Sheikh Zayed Stadium, Abu Dhabi |
| 14 | Gulf Giants | Sharjah Warriors | 24-01-2023 | 18:00 | 19:30 | Dubai International Cricket Stadium, Dubai |
| 15 | Desert Vipers | MI Emirates | 24-01-2023 | 18:00 | 19:30 | Sheikh Zayed Stadium, Abu Dhabi |
| 16 | Abu Dhabi Knight Riders | Gulf Giants | 25-01-2023 | 18:00 | 19:30 | Dubai International Cricket Stadium, Dubai |
| 17 | Sharjah Warriors | Dubai Capitals | 26-01-2023 | 18:00 | 19:30 | Sharjah Cricket Stadium, Sharjah |
| 18 | Gulf Giants | MI Emirates | 27-01-2023 | 18:00 | 19:30 | Dubai International Cricket Stadium, Dubai |
| 19 | Sharjah Warriors | Abu Dhabi Knight Riders | 28-01-2023 | 14:00 | 15:30 | Sharjah Cricket Stadium, Sharjah |
| 20 | Dubai Capitals | Desert Vipers | 28-01-2023 | 18:00 | 19:30 | Dubai International Cricket Stadium, Dubai |
| 21 | Desert Vipers | MI Emirates | 29-01-2023 | 18:00 | 19:30 | Sharjah Cricket Stadium, Sharjah |
| 22 | Abu Dhabi Knight Riders | Dubai Capitals | 30-01-2023 | 18:00 | 19:30 | Sheikh Zayed Stadium, Abu Dhabi |
| 23 | Sharjah Warriors | Desert Vipers | 31-01-2023 | 18:00 | 19:30 | Sharjah Cricket Stadium, Sharjah |
| 24 | Gulf Giants | MI Emirates | 01-02-2023 | 18:00 | 19:30 | Sheikh Zayed Stadium, Abu Dhabi |
| 25 | Dubai Capitals | Desert Vipers | 02-02-2023 | 18:00 | 19:30 | Dubai International Cricket Stadium, Dubai |
| 26 | Abu Dhabi Knight Riders | MI Emirates | 03-02-2023 | 18:00 | 19:30 | Sheikh Zayed Stadium, Abu Dhabi |
| 27 | Desert Vipers | Gulf Giants | 04-02-2023 | 14:00 | 15:30 | Dubai International Cricket Stadium, Dubai |
| 28 | Abu Dhabi Knight Riders | Sharjah Warriors | 04-02-2023 | 18:00 | 19:30 | Sheikh Zayed Stadium, Abu Dhabi |
| 29 | Dubai Capitals | MI Emirates | 05-02-2023 | 18:00 | 19:30 | Dubai International Cricket Stadium, Dubai |
| 30 | Sharjah Warriors | Gulf Giants | 06-02-2023 | 18:00 | 19:30 | Sharjah Cricket Stadium, Sharjah |
| Qualifier 1 | TBC | TBC | 08-02-2023 | 18:00 | 19:30 | Dubai International Cricket Stadium, Dubai |
| Eliminator | TBC | TBC | 09-02-2023 | 18:00 | 19:30 | Sharjah Cricket Stadium, Sharjah |
| Qualifier 2 | TBC | TBC | 10-02-2023 | 18:00 | 19:30 | Dubai International Cricket Stadium, Dubai |
| Final | TBC | TBC | 12-02-2023 | 18:00 | 19:30 | Dubai International Cricket Stadium, Dubai |