After the successful launch of the first edition of the Indian Premier League, the show resumed in 2009. This time around, the Royal Challengers Bangalore and the Deccan Chargers were the two teams to make it to the final. The former team was led by Anil Kumble, while the latter team was led by Adam Gilchrist. The Australian lifted the trophy, but it was Kumble who drew the headlines with his scintillating spell. He tried his best to win the trophy for his side, but it wasn't meant to be.
Let's get into this blog to rewind the IPL 2009 final and Anil Kumble's sensational spell.
Playing XIs
Here are the playing XIs of both teams for the final:
Royal Challengers Bangalore Playing XI
Jacques Kallis

Manish Pandey

Roelof van der Merwe

Rahul Dravid

Ross Taylor

Virat Kohli

Mark Boucherdagger

Robin Uthappa

Praveen Kumar

Vinay Kumar

Anil Kumble (c)
Deccan Chargers Playing XI
Adam Gilchrist (c)

Herschelle Gibbs

Tirumalasetti Suman

Andrew Symonds

Rohit Sharma

Venugopal Rao

Azhar Bilakhia

Ryan Harris

Pragyan Ojha

Harmeet Singh

R. P. Singh
1st Innings Summary
RCB's skipper Anil Kumble decided to go for the chase after winning the toss. Kumble decided to open the bowling for his side and got the priced wicket of Adam Gilchrist in the first over. Deccan Chargers' captain walked back as his team was yet to open its account. Vinay Kumar got the wicket of Tirumalasetti Suman in the 4th over to reduce the batting team to 18 for 2. Andrew Symonds then scored 33 off 21 to get some momentum in the innings.
RCB needed his wicket to stop the flow of runs. Their skipper rose to the occasion and rattled Symond's stumps in the 9th over. Then, Rohit Sharma walked out to bat and stitched a 52-run partnership with Herschelle Gibbs. A wicket was badly needed once again for the Challengers, and it was that man yet again. Kumble got Rohit caught for 24 to seize back control. 4 balls later, he dismissed Venugopal Rao for a duck to leave the Chargers at 115 for 5 after 17 overs.
Herschelle Gibbs stood firm at one end and batted the whole 20 overs. He faced 48 balls to score 53 runs with the help of 3 fours and 2 sixes. The last 3 overs went for 28 runs, and RCB were asked to chase 144 runs to win their first IPL trophy. Anil Kumble was the standout performer in the first innings as he bowled one of the all-time great IPL spells. His 4 overs went for just 16 runs, and he bagged 4 crucial wickets. Vinay Kumar also got 2 wickets for 30 runs in his quota of 4 overs.
2nd Innings Summary
The target didn't look too steep, but the Challengers didn't get a good start. Jacque Kallis fell after scoring just 15, and his opening partner Manish Pandey followed him for an 8-ball 4. Both the openers were back in the pavilion at the score of 36 after 6.1 overs. Roelof van der Merwe, who came in at #3, decided to take the aggressive route. He plundered 3 sixes and a four in his 21-ball stay to score 32 runs. Just when he was taking the game away from the Chargers, he was stumped on the bowling of Pragyan Ojha.
The wicket resulted in a momentum shift as Rahul Dravid couldn't get going after that. His struggling innings of 9(13) ended as RCB lost their 4th wicket on the 4th delivery of the 12th over. Ross Taylor scored 27 off 20 to make things easy for his team. At one stage, Bangalore needed 45 more runs off 35 balls with 6 wickets in hand. It seemed that they would cruise to victory, but things took a massive turnaround. Ross Taylor was dismissed by Andrew Symonds, and Virat Kohli followed him next ball.
Mark Boucher and Praveen Kumar also departed soon as RCB got themselves in a shell. They lost 4 wickets for just 11 runs and consumed 14 deliveries. Now, they needed 34 off 20 to get to an unlikely win. Robin Uthappa and Vinay Kumar tried to get close to the target, but the latter fell on the final ball of the penultimate over. With 15 required in the final over, Bangalore could score only 8. They lost the match by 6 runs as a batting collapse crushed their title hopes. Anil Kumble, who bowled a brilliant spell in the first innings, stayed unbeaten at 1*(1). He couldn't lift the trophy, but his 4 for 16 was indeed the best IPL spell in a losing cause.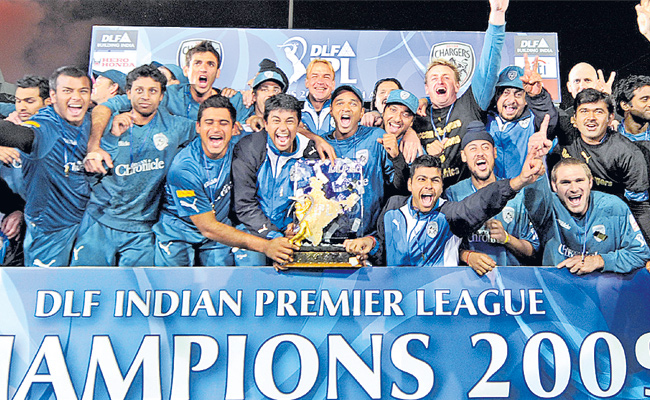 Image Source: cricketaddictor.com
Scorecard
Here's the scorecard of the IPL 2009 final:
Deccan Chargers Innings
Batsman   
Runs
Balls
Strike Rate
4s
6s
Adam Gilchrist
0
3
0
0
0
Herschelle Gibbs
53
48
110.41
3
2
Tirumalasetti Suman
10
11
90.9
1
0
Andrew Symonds
33
21
157.14
4
1
Rohit Sharma
24
23
104.34
1
1
Venugopal Rao
0
2
0
0
0
Azhar Bilakhia
6
7
85.71
0
0
Ryan Harris
9
5
180
0
0
Extras
8
Total
143/6
| Bowler | Overs | Runs | Wickets | Economy Rate |
| --- | --- | --- | --- | --- |
| Ryan Harris | 4 | 34 | 1 | 8.5 |
| RP Singh | 4 | 16 | 1 | 4 |
| Andrew Symonds | 3 | 18 | 2 | 6 |
| Pragyan Ojha | 4 | 28 | 3 | 7 |
| Harmeet Singh | 4 | 23 | 2 | 5.75 |
| Rohit Sharma | 1 | 9 | 0 | 9 |
Royal Challengers Bangalore Innings
Batsman
Runs
Balls
Strike Rate
4s
6s
Jacques Kallis
15
17
88.23
3
0
Manish Pandey
4
8
50
0
0
Roelof van der Merwe
32
21
152.38
1
3
Rahul Dravid
9
13
69.23
0
0
Ross Taylor
27
20
135
3
1
Virat Kohli
7
8
87.5
1
0
Mark Boucher †
5
6
83.33
1
0
Robin Uthappa
17
15
113.33
0
1
Praveen Kumar
2
3
66.66
0
0
Vinay Kumar
8
8
100
1
0
Anil Kumble (c)
1
1
100
0
0
Extras
10
TOTAL
137/9
| Bowler | Overs | Runs | Wickets | Economy Rate |
| --- | --- | --- | --- | --- |
| Anil Kumble | 4 | 16 | 4 | 4 |
| Praveen Kumar | 4 | 43 | 0 | 10.75 |
| Jacques Kallis | 4 | 24 | 0 | 6 |
| Vinay Kumar | 4 | 30 | 2 | 7.5 |
| Roelof van der Merwe | 4 | 28 | 0 | 7 |