Since the first edition in 1975, the ODI Cricket World Cup always lived up to expectations as all participating sides produced breathtaking matches. The 1987 Cricket World Cup was the fourth edition of the ODI World Cup. The Caribbean Giants, the West Indies, were considered almost invincible back then! India's World Cup 1983 triumph motivated other sides to defeat that star-stubbed vintage West Indies team.
Below, we will discuss every detail related to the 1987 Cricket World Cup, including some significant unique aspects.
Let's get straight into it!
Background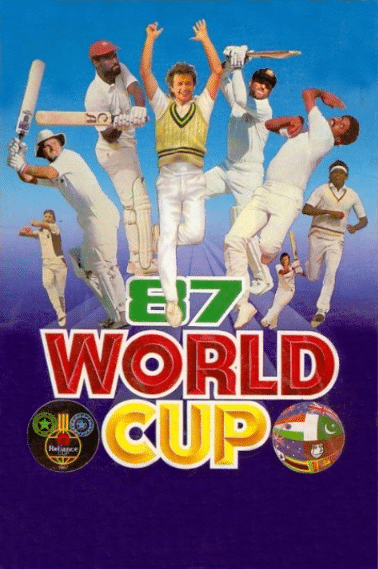 The 1987 Cricket World Cup was the first-ever major tournament outside England. Another unique feature of this World Cup was that 50 overs (previously 60 overs) were finalized for one innings. Thus, this ODI World Cup was similar to the current modern era of the ODI format.
Defending Champion India was ready to host the 1987 Cricket World Cup along with arch-rivals Pakistan. It was a highly anticipated tournament for all participating teams as they were well-prepared according to sub-continent conditions: spinning and reverse-swing dominated pitches.
Participating Teams
The following 8 teams took part in the 1987 Cricket World Cup:
England
Australia
Pakistan (HOST)
West Indies
India (HOST)
Sri Lanka
New Zealand
Zimbabwe
Group Stage
Group Stage matches started from October 7, 1987. All 8 teams were divided into two groups, and the best two sides from each group made it to the semi-final stage. Each team had to face their group rivals twice, and the two sides with the most points qualified for the next round.
Both host nations, i.e., India and Pakistan, were placed in separate groups. Teams in team India's group played their matches in India. Likewise, teams competing in Pakistan's group had to play their matches in Pakistan (except for three matches in India). Following are the details of both groups: A and B.
Group A
Group A included four exciting sides: India, Australia, New Zealand and Zimbabwe. India and Australia dominated this group, winning 5 out of their 6 matches. New Zealand came third in the group as they could only defeat Zimbabwe in two successive meetings.
A reasonably inexperienced Zimbabwe side didn't win a single game, but it was a great learning exposure for their players. India and Australia qualified for the knockout stage from Group A as both finished 1st and 2nd, respectively.
Group B
They called Group B the "Group of Death," and they weren't wrong, as four competitive sides were contesting. Pakistan perfectly used home conditions as they lost only a single game from this group, thus topping it.
Back then, England and West Indies were two dark horses of cricket. This time, England took revenge on previous World Cup finals (1975 & 1979) from West Indies as they knocked them out of the World Cup by winning two games.
Shockingly! The 1987 Cricket World Cup gave a non-Windies fought semi-final/final game for the first time in World Cup history. The Sri Lankan side impressed but was amateurish compared to the other three teams.
Knockout Stage
It was the third appearance for Pakistan in the knockout stage of the World Cup, but previously, they failed to get past the semi-finals. India, on the other hand, was dreaming again to lift successive World Cup titles. Ashes fans were praying for a final between cricket pioneers England and Australia.
Thus, the 1987 Cricket World Cup knockout stage had hype that touched the sky as both hosts had the home crowd support while Ashes giants had the experience to deal with such pressure encounters.
Semi-Finals
The first semi-final of the 1987 Cricket World Cup was contested on November 4 between Pakistan and Australia at Gaddafi Stadium, Lahore. Australian batters skillfully outclassed reverse-swing master Pakistan bowling line-up. A target of 268 proved challenging for the home side as they were bowled out on 249 runs.
The next day, India and England competed for the second semi-final at Wankhede Stadium, Mumbai (Bombay then). India was cruising to chase the target of 255. But the late middle-order failed to finish the game in the last ten overs as they were deceived by English bowlers for 215 despite being 204/5 at one stage.
The Final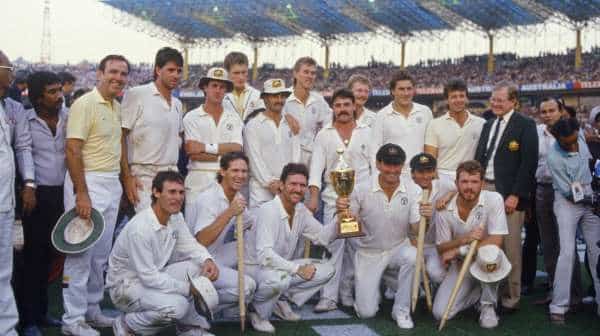 The cricketing world was finally about to witness its first Ashes team final. The final 1987 Cricket World Cup was played at iconic Eden Gardens, Kolkata. The Ashes rivalry met the fans' expectations as both teams didn't give up until the last ball.
Ultimately, Australia held their nerves and won crucial phases of both innings. Thus, Australia won this fourth edition of the World Cup after claiming the final by 7 runs.
Top Performers in the 1987 Cricket World Cup
England's Graham Gooch ended the tournament as the leading runs-getter (471). Champions side Australia had two batters who were instrumental for their cause: David Boon (447) and Geoff Marsh (428) scored 2nd and 3rd most runs, respectively. Other two batters included in the list of top 5 runs scorers during the 1987 Cricket World Cup are Sir Viv Richards (391) and Mike Gatting (354).
The most prominent performance among bowlers came from Australian Craig McDermott (18 wickets), while Pakistan's legendary all-rounder Imran Khan took 17 wickets. The other three top performers' bowlers were Patrick Patterson and Maninder Singh, with 14 wickets each, while Eddie Hemmings took 13. One unique performance came from Indian bowler Chetan Sharma, who took the Cricket World Cup's first ever hattrick.
Conclusion
8 teams were contesting during the 1987 Cricket World Cup and were placed in two groups. Every team played 6 group matches in their respective groups. Pakistan and England qualified for the semi-final from Group B, while India and Australia made it to the knockout stage from Group A.
A total of 21 different venues in Pakistan and India hosted this fourth edition of the World Cup. Venues in India were involved in 17 matches, while Pakistan stadiums hosted 10 thrilling matches. The tournament's highest total was posted by West Indies (360/4) against Sri Lanka. In contrast, the lowest total was made by Zimbabwe (139 all out) against Australia.