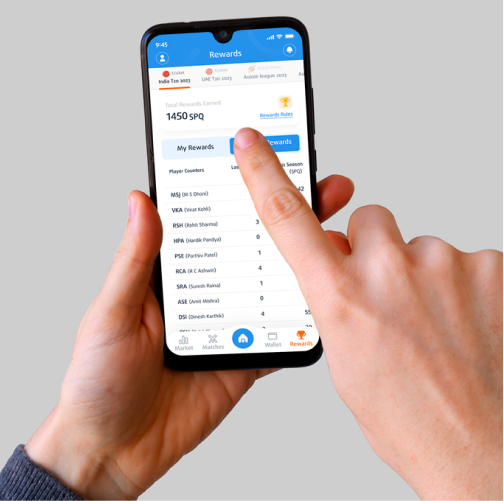 What are 'Counter Rewards' on Sportiqo?
In the Sportiqo market, Player Counters (PCs) derive their value from the performance of the player on which it is based.
After each game the player plays, the performance of the player is translated into a SportiScore using an objective, transparent, easily verifiable formula. The better the player plays the higher the SportiScore and the performance of different players can be compared using this metric.
The SportiScore is then converted to Sportiqoins (SPQ) on a 1:1 basis and allocated to each PC as Counter Rewards.
For example, if
Virat Kohli's
SportiScore after a game is 20, then 20 SPQ will be allocated to each Virat Kohli PC. If a user holds 1 Kohli PC he will earn 20 SPQ whereas if he holds 5 Kohli PCs he will earn 100 SPQ.
Note that the Sportiqoins will only be paid out to the PC holders at the end of the season when the PC expires.
What is the formula for calculating the SportiScore?
For T20 cricket, the SportiScore for a player is determined as per the following formula:
Sportiqoin Reward = Batting Points + Bowling Points + Fielding Points + Batting Bonus/Penalty + Bowling Bonus/Penalty
| Batting Bonus/Penalty | | |
| --- | --- | --- |
| Strike Rate >120% of Innings Strike Rate | (Strike Rate/Innings SR-1.2) x Batting Points) up to 50% of Batting Points. | |
| | (0.8 - Strike Rate/Innings SR) x Batting Points up to 50% of Batting Points. | |
| Bowling Bonus/Penalty | | |
| --- | --- | --- |
| Economy Rate < 80% of Innings Economy Rate | (0.8 - Economy Rate/Innings ER) x Bowling Points up to 50% of Bowling Points. | |
| Economy Rate > 120% of Innings Economy Rate | (Economy Rate/Innings ER -1.2) x Bowling Points up to 50% of Bowling Points. | |